M a r k e t N e w s
Tanzania: Bauchi PHCDA Immunises Children of IDPs Against Polio Virus
Posted on : Tuesday, 12th August 2014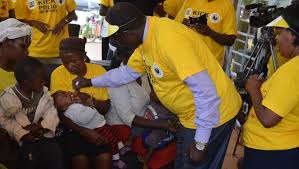 Dr. Adamu Gamawa, new Executive Chairman, Bauchi State Primary Healthcare Development Agency (PHCDA), said on Tuesday that efforts had been intensified to immunize against polio virus, children of internally displaced persons living in the state.
Gamawa told the News Agency of Nigeria (NAN) in Bauchi on Tuesday that although he inherited an agency that had worked hard to ensure that the state was free of the wild polio virus, his greatest challenge was the influx of persons from neighboring states facing security challenges.
"I met an organization that is functional and willing to work but the major challenge we have is that of Internally Displaced Persons from some neighboring states.
"People are moving and because of the security challenges, you cannot be sure that all their children had been vaccinated against the wild polio virus," he said.
The chairman stated that as a step towards ensuring that all children were captured, the agency had to be extending Immunization Plus Days.
"We had to be staggering immunization far beyond the Immunization Plus Days to take care of all those areas that have
challenges, and difficult terrain.
"We equally have plans for nomadic people that move across the state; we make sure that they are immunized," he added.(NAN)
Source : allafrica.com