M a r k e t N e w s
Largest Solar Power Plant in Africa Flips the Switch
Posted on : Thursday, 8th January 2015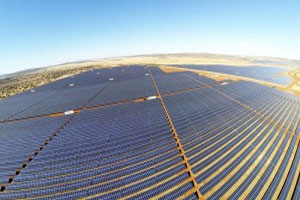 With seven of the world's fastest growing economies located in Africa, it should not be a surprise that the continent's energy demands will only surge in the coming decade. Hence plenty of opportunities exist for clean energy companies as investors worldwide realize Africa, with all of its risks, is a booming market. To that end, California-based Solar Reserve, together with numerous partners, has completed and launched the Jasper PV Project in South Africa.

Built in South Africa's Northern Cape Province, the Jasper solar power plant is now the largest of its kind on the African continent. The consortium that led the development of the Jasper facility included the Kensani Group, Intikon Energy, Rand Merchant Bank and Google. Incidentally, the Jasper plant is Google's first clean energy investment within Africa.

Located near the diamond mining center of Kimberley, the 96 megawatt plant and its 325,000 photovoltaic modules will provide enough energy for approximately 80,000 homes. The Jasper plant is also important as a step toward South Africa's renewable energy goals. The country of 53 million basks under bountiful sun and withstands plenty of wind, but renewables still have not come close to being fully exploited. South Africans also endure blackouts on a regular basis, and energy shortages have long been the bane of conducting business in Africa's second largest economy.

To that end, Solar Reserve claims the project serves as an example of how to boost employment in South Africa, where unemployment has long hovered around 25 percent. According a company press release, the Jasper plant provided 1 million man-hours of construction work and 800 on-site construction jobs. Construction of the plant was also largely a local endeavor, and about 60 percent of the materials used were procured from black businesses as mandated under South Africa's black empowerment law. Under the power purchase agreement Jasper has with the national electricity company, Eskom, the project will set aside a percentage of revenues for local economic and job development projects in the Northern Cape region.

Conceived in 2011, the Jasper power plant started construction in October 2013, and with last month's completion, finished two months ahead of schedule. South Africa still suffers from economic inequality, high crime and a complex regulatory environment, but successful projects like that of Jasper show that South Africa, and the rest of the continent continuing on north, offers plenty of business opportunities in sectors that immediately may not come to mind.
Source : www.triplepundit.com