M a r k e t N e w s
Kenya plans to reduce the cost of electricity by 47 per cent in the next three years
Posted on : Monday, 11th August 2014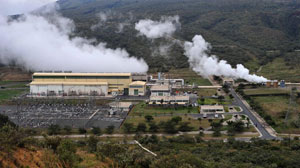 THIKA (Xinhua) -- A Kenyan official said Sunday that the country plans to reduce the cost of electricity by 47 per cent in the next three years amid increased power generation from cheaper sources.
Principal Secretary for Energy and Petroleum Joseph Njoroge said the electricity producer, Kenya Power, is implementing a countrywide operation to upgrade the power network ahead of the expected additional generation capacity.
"The ongoing power project is all about making it easier to do business in Kenya, it's about creating opportunities and jobs for all Kenyans," Njoroge said in Thika, about 60 km east of the Kenyan capital Nairobi.
The energy permanent secretary was speaking when he witnessed a 630,000 U.S. dollars power upgrade project aimed at stabilizing power supply to the town's Central Business District and its industrial customers.
To accelerate its geothermal power production programme, the east African nation has also resorted to mobile wellhead plants which are faster to deploy.
Kenya has historically relied on hydropower for the bulk of its power generation.
During drought seasons, when hydropower drops in supply, Kenya has had to turn to costly emergency diesel-fired plants.
Heavy fuel oil plants offer a viable and lower cost alternative than diesel-fired plants to address the short-term energy deficit in Kenya.
Njoroge said generation projects for the 5,000 MW additional capacity in the medium term are well on course with electricity prices for domestic customers expected to come down from a current average of 0.19 dollars to 0.10 dollars per unit.
According to him, large power consumers, who include manufacturers and industrialists, should anticipate about 40 per cent reduction in power bills over the same period with unit prices expected to drop significantly from an average of 15 dollars to 9 dollars.
Source : www.coastweek.com