M a r k e t N e w s
African, U.S. Leaders Announce New Partnerships to Help Farmers
Posted on : Monday, 11th August 2014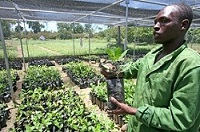 The New Alliance for Food Security and Nutrition now has commitments from private investors totaling more than $10 billion, U.S. and African officials announced at the U.S.-Africa Leaders Summit August 5.
These new investments are expected to create about 650,000 jobs and reach over 5 million small-holder farmers in initial New Alliance and Grow Africa countries, the U.S. Agency for International Development (USAID) said in a press release. This increase includes commitments from 39 new Africa-based companies and nine companies with international operations. Nearly half of the now over $10 billion in New Alliance investments represent commitments from African-based companies, which represent over two-thirds of companies participating in the New Alliance.
"Africa is on the rise," said USAID Administrator Rajiv Shah. "Under the leadership of President Obama, we have pioneered a new model of development that is transforming agriculture and accelerating Africa's impressive growth and potential. By harnessing the skills, resources and expertise of the private sector, we can build on our investments to power the markets of the future and lift millions of people out of extreme poverty."
Launched at the 2012 G8 Summit at Camp David with President Obama, African heads of state, private sector representatives and others, the New Alliance represents a shared commitment to partner more closely with the private sector to accelerate sustained, inclusive agricultural growth that can reduce poverty. The New Alliance supports the Comprehensive Africa Agriculture Development Programme (CAADP) and contributes to the goals of the recent Malabo Declaration to end hunger and halve poverty in Africa by 2025. The U.S. and other G7 nations support African governments and business leaders in charting this path.
"African leaders have firmly put agriculture at the top of national development agendas and are prepared to lead the way on a sure path to development and prosperity for their people," said African Union Chairwoman Dr. Nkosazana Dlamini-Zuma. "We will only achieve success by working in partnership with the global community to mobilize and strategically channel investments into this critical sector. The New Alliance for Food Security and Nutrition is an example of how partners are supporting our development objectives and aligning with CAADP priorities."
Leaders also released the second annual progress report on the New Alliance.
These developments demonstrate that efforts to sustainably reduce hunger, poverty and undernutrition, in support of Africa's own model, leadership and commitments over the last decade, are taking root, USAID said. Additional information and updates on the New Alliance are available on its new website, www.new-alliance.org, also unveiled August 4.
The United States contributes to the New Alliance through Feed the Future, its global hunger and food security initiative. In the last year, Feed the Future has reached nearly 7 million small-holder farmers and helped to save 12.5 million children from the threat of hunger, poverty and undernutrition. Since it was formed four years ago, Feed the Future and complementary efforts have attracted billions of dollars in investments focused in agriculture, introduced affordable new technologies aimed at increasing agricultural production and managing the risks of a changing climate, and introduced nutrient-packed foods to millions of mothers and children around the world.
Source : allafrica.com