M a r k e t N e w s
KARI develops new banana and rice varieties
Posted on : Monday, 11th August 2014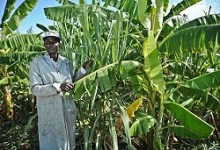 The Kenya Agricultural Research Institute (KARI) has developed new banana, rice and cassava varieties for farmers in Kenya
Kenyan-farmer-K. TrautmannThe new banana, rice and cassava varieties for Kenyan farmers will prevent them from recycling seeds during the planting season.
The new FHIA-17 banana variety matures within 12 months and has an impressive number of banana fingers and weighs more than 100 kg.
"The FHIA-17 is suitable for coffee and cotton zones. It is disease tolerant and farmers are advised to plant only certified plantlets," said Murimi Kagete, a researcher at Kari's Embu Station during a recent Embu Agricultural Show.
It is in particular tolerant to Panama and cigar end rot diseases and has been declared suitable to the Central Highlands.
In partnership with the East Africa Agricultural Productivity Project (EAAPP), Kari has also released six new rice varieties to the market.
"The new varieties are aromatic and are bigger than local pishori rice. They will help farmers to stop recycling seeds during the planting season," noted Dr Joseph Kamau, a Kari seed expert and also the EAAPP deputy project coordinator, while speaking during a farmer day in Naivasha.
Dr Kamau also announced that Kari has developed six new cassava varieties at the Kenyan Coast and three in Nairobi.
"We are committed to improving cassava sub-sector in the country through production of quality certified seeds," Kamau added.
Plans are also underway to open two agri-centres in Kilifi and Busia for processing cassava.
Source : www.africanfarming.net