M a r k e t N e w s
Kenya: Karen Hospital Installs Philips' Ingenia Digital Broadband MRI System
Posted on : Wednesday, 10th December 2014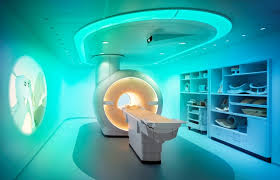 Philips East Africa and the Diagnostic Imaging Department at Karen Hospital have inaugurated the Philips Ingenia 3.0T MRI, billed as the first-ever digital broadband magnetic resonance imaging (MRI) solution.Driven by Philips' commitment to developing innovative patient care solutions, the Ingenia MR delivers exceptional image clarity, scanning efficiency and scalability. Karen Hospital has acquired one of the most advanced MRI systems of its kind in East Africa. When utilizing an Ingenia system, clinicians will find they spend significantly less time on the logistics related to patient set-up, contributing to as much as a 30 percent increase in throughput compared to non-digital MRI systems. This could potentially enable more patients to be scanned, reducing the waiting list of patients at the hospital.
Clinicians have long relied on MRI for its exceptional ability to differentiate various soft tissues. The Philips Ingenia MR system introduces, for the first time in MRI, digital signal acquisition and processing directly in the RF receive coil nearest to the patient. Ingenia's performance provides a reliable, patient-friendly approach for oncology imaging, staging and treatment assessment.

"After 8 years of service delivery, the Karen Hospital continues to be a leader in the private health sector. In light of our mission "to provide specialized evidence based healthcare services and referral facilities for Africa" the hospital has invested in the Philips Ingenia 3.0T digital MRI. This state-of-the-art MRI equipment will ensure that the Karen Hospital continues to deliver the best holistic care to its clients. There is increasing pressure to be as fully optimized as possible and in a busy hospital environment like ours, there simply isn't much time to worry about process optimization, " said Dr. Betty Gikonyo, Chief Executive, Karen Hospital. "The Ingenia MRI system optimizes workflow by reducing time consuming steps like coil and patient manipulation. Compounded over time, this makes a real difference in terms of efficiency, which is critical as the Karen Hospital wants to provide MRI services around the clock."
Philips has been present in Kenya for over 60 years and maintains a strong position in the healthcare sector through ongoing partnerships and initiatives with local healthcare stakeholders.
"By working in close partnership with healthcare providers such as the Karen Hospital, we are able to provide world-class technology and long-term solutions that help to deliver an outstanding patient experience" said Roelof Assies, General Manager, Philips East Africa. "MRI is continuing to expand its role with applications for every part of the body and the Ingenia system is taking the lead with smart, reliable tools for better image quality and shorter exam times, which can lead to increased diagnostic confidence and a simpler patient and clinician experience overall."
With more than 100 years of experience in delivering healthcare solutions, Philips is leading the way in providing innovative, customized solutions for healthcare providers throughout the world. Philips offers a comprehensive portfolio of magnetic resonance imaging (MRI) diagnostic and therapeutic solutions that truly transform patient care.
The inauguration of the Philips Ingenia 3.0T was also graced by Honourable James Macharia, Cabinet Secretary for Health, Kenya.
Source : africahealthitnews.com