M a r k e t N e w s
Nairobi skyline to soar higher with Kenya's tallest tower
Posted on : Friday, 8th August 2014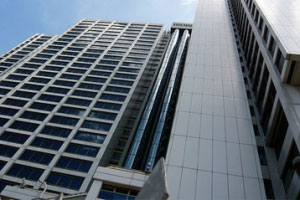 Construction is well underway on the 40-storey Hazina Trade Centre in Nairobi, which is tipped to be the tallest building in East and Central Africa – and the third tallest in Africa.

The Hazina Trade Centre, which is being developed by the National Social Security Fund (NSSF), will unseat the city's 38-storey Times Tower as the tallest building in the region upon its completion in 2016.

The tower was designed by Mruttu & Salmann Associates. It is being built atop the eight-storey Hazina Trade Centre on Mokhtar Daddah and Monrovia streets, which currently houses the Nakumatt Lifestyle.

The structure, whose design is inspired by the outline of a Maasai Moran standing with a crossed leg and leaning on a spear, will be built at a cost of Sh7.1billion.

It will feature fritted glazing (to reduce solar heat gain), a ventilated atrium, a helipad and a city skyline viewing gallery.

China Jiangxi International has been contracted to build the Hazina Trade Centre. The Chinese firm had earlier disputed award of the contract to Cementers Limited, which initially won the tender in 2011.

China Jiangxi International and China Wu Yi – the firms that lost the bid – moved to court challenging the tendering. The court cancelled the tender, forcing the NSFF to go back to the drawing board.

NSSF, which expects to collect Sh100million in monthly rent from the building, is willing to sell of some of the floor space so as to retain its real estate investment below the regulatory maximum of 30 per cent.

The development comes at a time when the NSSF is packaging its commercial buildings into Real Estate Investment Trusts (REITs) with the aim of listing at the Nairobi Securities Exchange.

The fund has identified the NSSF Complex, Bruce House and the Social Security House in Mombasa for offering to the public. The buildings are valued at Sh1.5 billion, Sh5.4 billion and Sh500 million respectively.
Source : abdas.org