M a r k e t N e w s
Jumia Kenya will launch an electric vehicle for delivery services in Kenya
Posted on : Friday, 30th September 2022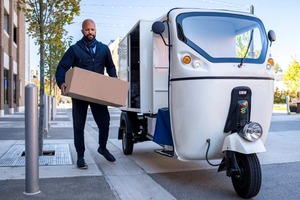 Jumia Kenya has announced that it would soon start using electric e-Vans for deliveries done in Kenya.
The electric e-Vans are a new addition to the delivery fleet that already comprises boda bodas, trucks, and vans for delivering items, food, and beverages to consumers.
Jumia will purchase its electric e-Vans from Biliti Electric, a California-based developer of EV solutions.
After finishing the pilot project, the two businesses plan to expand their fleet initially within Kenya and then eventually throughout all of Africa. The agreement, according to this two parties, is a crucial step for Africa's development in the e-mobility sector to meet its objectives for environmental protection.
The first pillar of JUMIA's sustainability goals, according to Juan Seco, CEO of Jumia Kenya, is Leveraging technology to better everyday lives in Africa. We are devoted to developing a supply network that will lessen the negative effects of our operations on the environment. Our progress toward achieving our ESG goals has reached a significant turning point with the addition of these e-Vans to our delivery fleet.
The last mile delivery charges make up 53% of the total cost of shipping, according to Rahul Gayam, Co-Founder and Co-CEO of Biliti Electric. He noted that electric vehicles (EVs) help to reduce these high prices when compared to any internal combustion engine vehicle.
We are certain that we can work with JUMIA to provide last-mile deliveries that are quicker, cleaner, less expensive, and more practical, Gayam continued.
These electric vans, according to the business, provide African communities with better air quality and economic opportunities. By converting from conventional bikes to these electric vans, delivery personnel may deliver more products more swiftly and effectively while also increasing their income.
Without a doubt, Kenya's adoption of e-vans is a positive step toward its 2030 goal of using only clean energy, and it raises new expectations for the expansion of safer transportation options across Africa.
Source : sffd.com