M a r k e t N e w s
China grants Kenya Sh51 bn, signs six agreements to boost bilateral ties
Posted on : Monday, 10th January 2022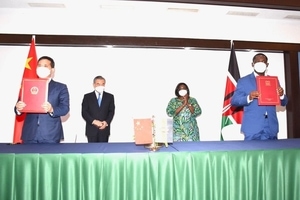 Kenya and China have signed six important bilateral agreements aimed at strengthening their ties.
The agreements were signed by Chinese Foreign Minister Wang Yi and Kenya's Foreign Affairs Cabinet Secretary Raychelle Omamo, who is on a two-day formal State visit to Kenya.
The six agreements include new trade and agricultural collaborations, with Kenya exporting fish and avocados to China. A memorandum of understanding on enhancing investment cooperation in the digital sector between the two countries was also inked.
A certificate of handover on the Emergency Humanitarian Food Aid Program between China and Kenya, as well as an agreement on Economic and Technical Cooperation, are among the others.
Omamo and Wang also talked about the global Covid-19 situation, coordinated measures to combat the disease, and bolstering economic collaboration throughout the pandemic and beyond.
Wang said that China would send Kenya a Sh51 billion gift, 10 million Covid-19 vaccinations, and 12,000 tonnes of rice to help needy families cope with the pandemic during the signing in Mombasa.
China has promised to form a working committee to investigate tariff and non-tariff barriers in order to reduce the trade deficit that favours China.
"We agreed to collaborate to encourage Chinese investments in agro-processing, textiles and apparels, leather processing, footwear, iron and steel and machinery, furniture and wood, electronic assembly, auto assembly, construction, pharmaceutical, oil, and gas," said CS Omamo.
Collaboration in Big-data strategy, ICT hardware and software development, e-government and service delivery, cyber and information security, capacity building, and technology transfer were also discussed by Omamo and Wang.
Source : afrnews.com