M a r k e t N e w s
IFAD to assist Tanzanian farmers in increasing productivity and gaining market access in order to secure food security.
Posted on : Wednesday, 29th December 2021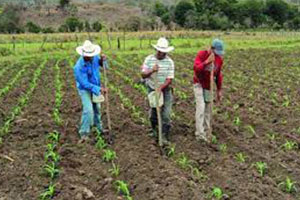 As part of its COVID-19 response in Tanzania, the International Fund for Agricultural Development (IFAD) is seeking funds in the amount of US$882,841.
The assistance, which will be provided through the Rural Poor Stimulus Facility (RPSF), would benefit 6,240 vulnerable small-scale farmers in rural Tanzania.
The IFAD award will assist farmers in gaining access to inputs, establishing market connections, and gaining access to agricultural and market information in order to improve their production and resilience.
Farmers in the Dodoma, Njombe, Simiyu, Singida, and Unguja areas will benefit from the funding, with half of them being women and 30% being youth. Agro-dealers, off-takers, and extension workers will also benefit.
"The COVID-19 epidemic has brought our food systems' vulnerability to light. "We must recognise the role of small-scale farmers and enable them to access inputs, information, and markets for their produce if we are to develop a sustainable and resilient food system," said Francesco Rispoli, IFAD Country Director for Tanzania.
Crop production remains the principal economic activity for most small-scale farmers in Tanzania, despite the numerous problems they face, including low yields.
The award will include 23,650 kilogrammes of bio-fortified maize seeds, 14,460 kilogrammes of sunflower seeds, and 971,000 fruit and vegetable seedlings to help enhance their output.
Furthermore, by utilising its existing agro-input distribution system to reach the targeted farmers, the award will assist secure the benefits made through the Marketing Infrastructure, Value Addition, and Rural Finance Support Programme (MIVARF) — an IFAD-supported project that ended in 2020.
Many small-scale farmers have been unable to access agricultural markets due to border closures and rigorous COVID-19 rules.
To help with this, the grant will let the National Food Reserve Agency buy maize grain from farmers as part of its present aim to increase its reserve.
The assistance would also make use of current MIVARF systems to connect farmers to new markets.
Extension programmes can help small-scale farmers increase their output. Unfortunately, due to the low number of extension officers, most farmers are not reached in time.
The grant will be used to assist scale up the M-Kilimo platform, a mobile-based agriculture application that allows farmers to access extension and advisory services as well as market-related information in the palm of their hands.
Source : www.afrinews.co