M a r k e t N e w s
Kenya's horticulture export revenues increased significantly over the last 11 months.
Posted on : Wednesday, 29th December 2021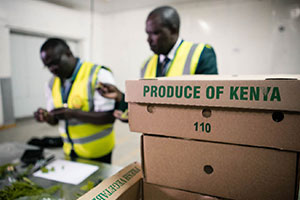 Kenya's horticulture export revenues increased by 6.4 percent to Ksh 8.7 billion (US$77 million) in the 11 months to November 2021, owing to increased demand for Kenyan produce on the global market as export destinations continue to relax in Covid-19 stipulations.
Kenya earned Ksh145.4 billion (US$1.29 billion) for the period under review, up from Ksh136.7 billion (US$1.2 billion) the previous year, according to the Horticultural Crops Directorate.
Despite the fact that average export prices reached were low compared to those in 2020, the growth was fueled by rising volumes.
The amount of Kenyan veggies and flowers increased by 30% due to increased demand.
Cut flowers worth Ksh101 billion (US$894 million) were sent to the lucrative European market in quantities totaling 373.78 million (US$3.3 million) kilos.
Vegetables came in second at Ksh23.7 billion (US$209 million) from 65.13 million kilogrammes, with the UK, Holland, and France maintaining the top export destinations.
Meanwhile, fruit exports climbed by 11% to 110.5 million kilos in 2020 from 99.5 million kilos in 2019.
Kenyan horticulture exports continue to be dominated by the European Union, with 45 percent of all exports consisting primarily of cut flowers, French beans, snow peas, and Asian vegetables.
Kenya's Agriculture and Food Authority has stated that the country has to diversify its market because it is overly reliant on the European market.
Source : wwwfoodbuzafrica.com