M a r k e t N e w s
Uber Partners with Opibus to Offer Electric Motorcycles in Kenya
Posted on : Tuesday, 28th December 2021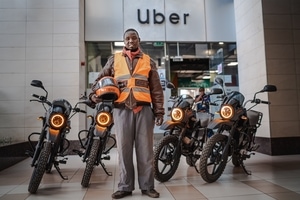 Uber Kenya has revealed fresh ambitions to include electric motorbikes in its ridesharing service. To do this, the startup located in the United States is collaborating with electric car manufacturer Opibus. However, no timetable was provided for when the corporation plans to implement this initiative.
However, the need for cleaner transportation, particularly in Kenya's expansive metropolitan centres, has increased dramatically in recent years. However, both Uber and Opibus plan to provide up to 3000 electric bikes to riders around the country in the coming months. Opibus hopes to sell one bike for roughly $1400, which is comparable to the price of a standard gas cycle.
Uber and Opibus also stated that they collaborated on a pilot study to determine demand for electric bikes in the nation. According to the research, there appears to be a high demand for these mobility vehicles. Indeed, according to Opibus, demand for locally produced electric bikes is expected to increase in the next years, presenting the ideal business opportunity.
Furthermore, motorbike transport, or "Boda boda," is a common mode of transportation for individuals in both urban cities and rural locations. For many years, gas-powered motorbikes dominated this market; however, it appears that there is a potential to fundamentally change the sector toward a more sustainable and cleaner future.
One thing that people in the Western world identify Uber with is the ability to acquire a car at any time. However, Uber has gone above and beyond in Kenya. Although it still has a vehicle fleet, it has expanded its ridesharing service to include motorbikes in order to meet rising demand in Kenya.
Customers may now request a motorbike taxi using the Uber app at any time. They may also use Uber Eats to order meals and have it delivered by motorcycles. The ride-hailing firm clearly sees motorbikes as an important component of its future. And it's not difficult to see why. As previously said, motorcycle transportation remains one of the most common modes of transportation in both urban and rural Kenya.
Climate change and global warming are significant threats. It has compelled several governments throughout the world to take substantial steps to decarbonize their transportation infrastructure. The popularity of electric automobiles, in particular, has skyrocketed. Even still, EV adoption in Kenya and other African countries remains quite low.
Many experts, however, feel that starting with motorbikes is a smart approach to help decarbonize travel on the continent. Furthermore, fuel prices in Kenya have risen dramatically in recent months. This has increased the cost of transportation across the country.
Source : qzxa.co