M a r k e t N e w s
Kenya Power intends to set up electric vehicle charging stations in malls, highways
Posted on : Tuesday, 28th December 2021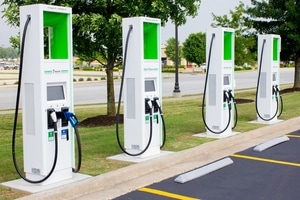 KPLC stated ambitions to expand its presence in the electric car industry by constructing statewide charging stations and fighting for lower import taxes on non-fuel-powered vehicles. The power distributor announced that it will establish a network of public electric car charging stations, so eliminating one of Kenya's major impediments to electric vehicle adoption.
It is also negotiating with the state to reduce taxes on electric vehicles and charging station equipment in order to satisfy the state's aim of having at least 5% of registered vehicles be non-petrol. In an effort to diversify its revenue streams beyond providing power to households and businesses, the utility is targeting electrical charging stations as a new revenue stream.
At Kenya Power's annual general meeting, acting Chief Executive Officer Rosemary Oduor remarked, "We also aim to set up charging facilities around the nation, and we'll leverage our existing workshops to give after-sale services like mechanical assistance."
"As Kenya's sole power offtaker, and with our objective of being the chosen provider of energy solutions, the potential afforded by electric motorization is big enough to be a business dial-mover." Most individuals who are thinking about buying an electric vehicle are concerned about how to charge them.
Kenya Power intends to establish charging stations for electric vehicles in parking lots, key roads, and shopping malls, with its workshops functioning as after-sales service facilities. It joins KenGen (Kenya Electricity Generating Company) KEGN in investing in charging infrastructure for electric vehicles. Kenya has joined a worldwide campaign to promote electric vehicles and reduce reliance on gasoline and diesel. The bulk of the country's imports are fuel goods.
Although the majority of African consumers will be uninterested in electric automobiles owing to their expensive cost, economists anticipate that greater manufacturing and favourable government policies would help down prices. Ms. Oduor stated, "We're working very closely with the government to establish laws that would support the cost of these cars, as well as accompanying infrastructure like storage and charging stations." In order to stimulate the use of electric cars, Kenya decreased the excise levy on them from 20% to 10%.
The KEBS has also approved electric vehicle specifications (Kenya Bureau of Standards). By 2025, McKinsey estimates that over 350 new electric car models will be available. As a result, established firms like Tesla will confront unprecedented competition. Almost every traditional automobile manufacturer in the world intends to introduce an electric vehicle. Even start-ups have joined in the fun. Approximately 250 space start-ups raised more than $20 billion (nearly Sh2 trillion) in venture funding in 2019, according to reports.
Expanding the initiative in Kenya would produce cash for both KenGen and Kenya Power from car owners who will need to charge their vehicles, but this is largely contingent on the technology gaining traction locally.
Source : asqz.co