M a r k e t N e w s
Solar Freezers for the Win at the Afcfta Caravan Prize-Giving
Posted on : Thursday, 18th November 2021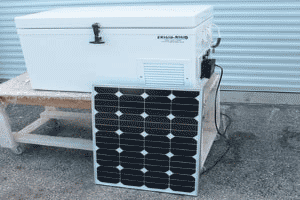 The African Continental Free Trade Area (AfCFTA) Caravan Prize celebrates Africa's SMEs, start-ups, social enterprises and innovator entities keen on harnessing the benefits that will be created by AfCFTA to expand continentally and flourish at the grassroots. Growing out of the earlier AfCFTA Vision and Caravan Africa competitive grants programmes, the Caravan Prize aims to invent transformative ideas to expedite AfCFTA implementation.
A key criterion for the selection of the finalists and semi-finalists was for an organisation and its founders to conceive and implement models, concepts, plans, products, and/or services that, at scale, can contribute to the objectives of AfCFTA and the broader Agenda 2063 of the African Union.
One of the winners, announced during a gala dinner at the Arab Africa Trade Forum last week, is Tekizo Africa Limited founded by Purity Gakuo. Chosen from a pool of more than 1,500 eligible candidate enterprises, Tekizo Africa manufactures and distributes solar-powered freezers to small-scale fishermen in Kenya. This provides the fishermen with sustainable cooling and with the aim of contributing towards an Africa where food is secured.
Secretary-General of the AfCFTA Secretariat, Wamkele Mene, said: "If there is one hope that animates everything we do as a Secretariat, it is that AfCFTA must become the most inclusive and most digital Free Trade Area & Process in the World. By focusing on SMEs, digital innovation, gender and equitable transformation, the AfCFTA Caravan Prize will serve as a continental beacon for Agenda 2063. I celebrate the Prize Laureates for sharing our vision and thank the jury and partners for stepping up to the challenge."
The Caravan Prize is a component of the broader Caravan Initiative, which targeting to provide extensive soft infrastructure to boost the capacity of SMEs and start-ups in Africa to expand beyond their home country. Caravan also powers the Jobs in Green Tech programme, the Digital Green Corridor, designed to promote a trade & investment corridor for Africa's cleantech entrepreneurs to benefit from AfCFTA and the ongoing global green shift simultaneously.
Source : www.abafnz.com