M a r k e t N e w s
Kenya's automotive industry is poised to expand throughout the continent
Posted on : Friday, 29th October 2021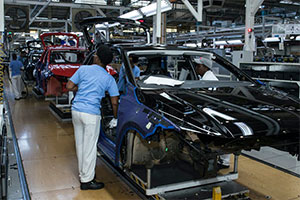 The automotive sector in Kenya has seen a significant increase in local automobile sales as a result of President Uhuru Kenyatta's decree given in 2019 pushing all government departments to buy locally produced cars in an effort to further the objective of the 'Buy Kenya Build Kenya' campaign.

Under President Kenyatta's Big 4 Economic Agenda, the government put aside cash last year to purchase automobiles from local assemblers as part of an economic stimulus package. The automobile sector was one of eight (8) sectors chosen for support, with Sh600 million set aside.

The government, which regarded the automobile industry as a crucial driver of the country's industrialization agenda, pledged incentives to boost local business by establishing special economic zones that would benefit from tax breaks and reduced utility prices.

Despite problems ranging from imported old automobiles flooding the market to the economic impact of the Covid- 19 outbreak, the sector is undoubtedly profitable and poised to expand throughout the continent.

The growth of the automotive sector involves numerous participants distributed around the country, which is changing the narrative in the motor business with their unique invention destined to revolutionise the industry. They are creating one of Kenya's first, efficient, inexpensive, and sustainable electric vehicles dubbed 'Nguli' — a Kamba dialect word for bold – which will be launched in November 2021.

This trend demonstrates that Kenya's latent demand, along with a consistent growth in consumer expenditure, which has been increasing at a ten percent yearly pace over the previous few years, has resulted in increased demand for sustainable car assembly in the nation.

Currently, the automobile industry employs around 12,000 people, with 3,000 working directly in assembly facilities, 3,690 working in downstream spin-offs, and 5,782 working in support sectors other than dealerships.

Notably, there are various advantages to purchasing locally built vehicles. This includes loyalty programmes and the ability to acquire a brand new automobile with locally available add-on value packages.

Automobile assemblers urge the government to expedite the policy implementation process that would control the industry's growth and attract additional investments in the automotive sector.

"The government should develop rules aimed at ensuring the success of the automobile industry," says Anthony Musyoki, Manager Corporate Services & Company Secretary, Isuzu EA Ltd.

Though some automobiles are simply a four-wheel framework with an engine, for others, it is a relationship they have developed with their equipment. The industry has the potential for economic freedom; it only requires massive backing from many economic sectors, the government, and society to scale up automobile manufacture in the country.
Source : www.akds.com