M a r k e t N e w s
Kenya & U.S signed private sector trade agreement
Posted on : Tuesday, 26th October 2021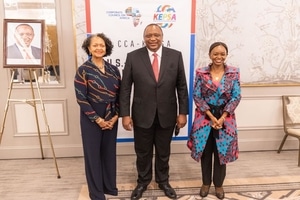 President Uhuru Kenyatta observed the signing of a comprehensive private sector agreement, which aims to promote trade and investment between Kenya and the United States of America.
The agreement, signed by the Kenya Private Sector Alliance (KEPSA) and the Corporate Council on Africa (CCA), establishes a framework for Kenyan and American businesses, particularly small and medium-sized enterprises (SMEs), to collaborate through information sharing, training, logistics, and financing.
CCA, founded in 1993, is the biggest umbrella organization of American firms working in Africa, with the primary goal of fostering trade and investment between the United States and the African continent.
The President said the government-backed accord was part of measures to assist the expansion of Kenya's SME sector as a vital facilitator of wealth and employment creation as he spoke at the signing ceremony in New York on the first day of his two-day official visit to the US.
He stated that the deal will open up new prospects for Kenyan SMEs, noting that the sector is critical to the country's economic resiliency, particularly during times of volatility.
President Kenyatta stated that SMEs drive both the Kenyan and US economies, and that the deal will support Kenya's economic recovery efforts from the devastation of the Covid-19 outbreak.
He complimented CCA for its dedication to promoting African-American economic links, stating that improved trade and investment relations between the United States and Kenya were primarily due to the organization's efforts.
The President reiterated his administration's support for the trade pact's implementation, stating that its success is the success of Kenyans, the government, and the country as a whole.
Carole Kariuki, CEO of KEPSA, stated that her organization's only aim is to guarantee that Kenyan SMEs connect into and benefit from the vast and lucrative American market by exploiting the networks and experience afforded by its trade and investment treaty with CCA.
"Right now, our focus is on scaling up the SMEs so that we can truly go into development. We wish to connect them with retailers in the United States and assist them in entering the market. Many SMEs do not know how to use AGOA (African Growth and Opportunity Act)—training, logistics, and financing—which is what we aim to achieve," according to Ms Kariuki.
Florie Liser, CEO of CCA, praised President Kenyatta for fostering a suitable economic climate for local and foreign companies to prosper by pushing progressive policies and establishing the necessary infrastructure.
Amos Kimunya, Kenya's National Assembly Leader and Cabinet Secretaries Betty Maina (Industrialization) and Raychelle Omamo (Foreign Affairs) joined President Kenyatta to the conference.
Source : afws.co