M a r k e t N e w s
Brewer Agri-Business Program Boosts Contract Farming in Tanzania
Posted on : Friday, 27th August 2021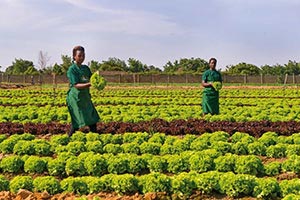 Serengeti Breweries Limited (SBL) has stated that its agri-business project, which includes over 400 local farmers spread over eight districts around the country, is committed to helping farmers' contract farming.
Kilimanjaro, Arusha, Manyara, Singida, Dodoma, Shinyanga, Mwanza, and Mara were nominated by SBL Corporate Relations Director John Wanyancha.
"Through the initiative, SBL supplies farmers with agricultural inputs such as free quality seeds, fertiliser, technical guidance, and other farm implements," he explained.
Farmers now have more confidence in approaching banks and other financial institutions for loans and other financial incentives thanks to SBL. Furthermore, it has aided them in receiving regular payments for their produce as well as a stable market, which was not the case previously.
Granted, the agri-business project has the advantage of being a long-term investment in agriculture that contributes to the government's overall strategic aims of poverty reduction and economic growth through agriculture.
Furthermore, SBL's contract farming complements the government's tireless efforts to ensure that farmers have a market for their products, earn better prices for them, and reduce post-harvest losses in order to create viable livelihood options in villages. Contract farming has become regarded as a vital component in this regard.
Hussein Bashe, the Deputy Minister of Agriculture, recently told parliament that the government fully supports contract farming, which ensures farmers have a reliable market for their produce.
Farmers can benefit from a ready market with predictable prices with contract farming, according to Bashe. Contract farming addresses several challenges for farmers, including the availability of agricultural inputs and enabling them to access funding from financial institutions to boost productivity.
Source : www.allfarm.co.tz