M a r k e t N e w s
In Kenya the world's first boat built of recycled plastic sets sail.
Posted on : Thursday, 27th May 2021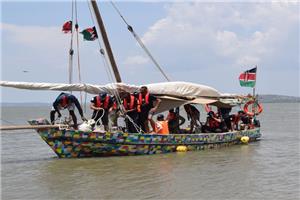 The 'Flipflopi vessel' is the world's first recycled plastic ship.
It will set sail on Lake Victoria in Kenya to launch a plastic pollution awareness campaign.
During the journey, the boat, which is made entirely of recycled plastic, will go through three East African countries with the help of the UN Environment Programme's (UNEP) clean seas programme.
They've also established innovation clusters and start-ups focused on the circular economy.
Dipesh Pabari, co-founder of the FlipFlopi initiative, adds, "We've really built up waste management initiatives on the South Coast of Kenya, in Lamu, and now we're building one in Kisumu with the recycling technology."
"Our goal now is to investigate if we can also encourage a circular economy in the garbage sector."
On their travels, activists will encounter corporate leaders, community leaders, and even school students in three nations (Kenya, Tanzania and Uganda). Their purpose is to bring attention to the negative effects of pollution on the lake environment as well as human health.
Over the previous four years, the Flipflopi movement has gone on many voyages with this one-of-a-kind sailboat.
Flipflopi, according to Joyce Msuya, UNEP's deputy executive director, is a remarkable African illustration of the circular economy in action. "The COVID-19 pandemic has heightened the urgency of addressing the world's many environmental concerns," she continued, "which can only be accomplished by regional and global agreement on major issues like single-use plastic and climate change."
The boat was built to demonstrate the world that valuable materials can be made from plastic waste, as per Aki Skanda, co-founder of the Flipflopi project.
"By sailing around the lake, we hope to inspire individuals to invent their own waste-plastic ideas and adopt circular solutions that will help businesses grow while also removing plastic from the environment," Skanda added.
Flipflopi will sail from Kisumu to multiple areas in Uganda and Tanzania over the course of three weeks, connecting with community leaders, conservationists, business leaders, and legislators in the process of raising awareness and pushing communities to adopt circular-waste solutions to combat plastic pollution.
Source : www.nxintin.net