M a r k e t N e w s
Tanzania's EcoAct recycles plastic scrap into valuable materials
Posted on : Thursday, 27th May 2021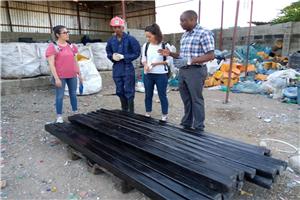 EcoAct Tanzania is one of the organisations that is pioneering new techniques to recycle plastic trash while also conserving the environment.
EcoAct, one of Tanzania's fastest-growing tech firms, uses "Waxy ii Technique," a chemical-free and energy-efficient plastic extrusion technology.
This cutting-edge method recycles and transforms post-consumer plastic waste into plastic lumber. The effort was founded to address issues such as post-consumer plastic pollution, waste management, climate change, and deforestation. EcoAct factory is located in Dar es Salaam's, Tegeta.
EcoAct provides a way to use these plastics constructively to meet the needs of its customers, with over a million uses of plastics going to trash each year.
The company has been in operation for over three years, with over 2.5 million kilogrammes of post-consumer waste plastics removed from the environment and manufactured plastic lumbers used. This has prevented the logging of around 250 acres of woodland that would otherwise have been felled. EcoAct-objective Tanzania's is to use innovative solutions to protect the environment from pollution, deforestation, and climate change while also creating long-term jobs by manufacturing and marketing environmentally friendly, high-quality building goods that meet consumers' expectations.
EcoAct-Tanzania focuses on creating, manufacturing, and distributing straight to real estate developers, advertising agencies, domestic home developers, wild life conservation agencies, farmers, communications infrastructure contractors, road contractors, and government institutions construction materials (Plastic materials) constructed entirely of plastic waste. They presently have 1067 subscribers, with 90% of them in Tanzania, 7% in Kenya, and 3% in the Democratic Republic of Congo.
Locals are employed in product sourcing and manufacture, as well as providing training and skills to disadvantaged women and youth through public education on recycling techniques. EcoAct has taken things a step further by developing "Garbage Medical Insurance," a miniature health insurance scheme that makes use of garbage as a cash resource. Local families and residents of the slums can enrol in the trash medical insurance programme and pay for medical care, drugs, and other clinical services using rubbish as a form of payment to an insurance plan.
The plastic timbers are either sold directly to customers by the sales team or indirectly through designated hardware stores, construction expo displays, and stockiest.
When asked about EcoAct's aim, Christian Mwijage, the executive director of EcoAct-Tanzania, said, "We are looking into the building business and believe that using plastic materials will reduce the cost of construction by 50% in the next three years." I dream of a day when we will be able to construct an entire structure out of plastic rubbish. Tanzanian youth will be able to own their own homes as a result of this."
Source : www.citinewstoday.co.tz