M a r k e t N e w s
Tripling Annual Cashew Output achievable for Tanzania
Posted on : Tuesday, 25th May 2021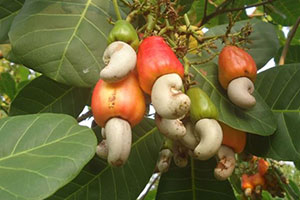 According to the Tanzanian Agricultural Research Institute (Tari), the country's goal of tripling cashew nut production to 1.0 million tonnes per year is feasible.
Tari said the government's goal of making the country a leading global cashew nut producer was achievable because new seeds and cultivation methods were promising.
Tari, which has produced 54 disease-resistant and high-yield seeds, claims that new cultivation areas have great potential and that output could triple by 2023.
Dr Geraldina Mzena, the Tari National Coordinator for Cashew Research, said Manyoni expected to start selling cashew nuts this year, three years after the first nut was planted.
"Manyoni is a role model. We plan to begin selling the first cashew nuts from a 22,000-hectare farm this year "Dr. Mzena told the 'Daily News' last week on the sidelines of Tari-reporters' Naliendele's exhibition in Mtwara.
Dr. Mzena of Tari Naliendele said that, in addition to Manyoni in the Singida Region, Katavi Region intended to begin selling cashew nuts this year.
"The new seeds may also produce for an extended period of time, ranging from 8 months to a year. This will force us to meet our goal in two years "Dr. Mzena made a point.
Last year, Katavi Regional Commissioner Juma Homera predicted that the region's farmers will harvest more than 1,000 tonnes of cashew nuts this season.
"The good news is that between 2018/19 and 2019/20, farmers in the area grew 540,000 cashew nuts on 37,000 hectares. Farmers hope to harvest over 1,000 tonnes of cashew nuts next season "According to the RC.
In the 2019/20 seasons, the area will plant over 1,190,000 new cashew nut plants on 80,000 hectares of farmland.
Tari considers cashew nuts to be one of the country's strategic crops, and it wants to increase production from 313,000 to 1.0 million tonnes per year by using better farming practises and high-quality seeds in the 17 cashew-growing regions.
Tari Naliendele has developed 54 different types of seeds that can produce 20 kilogrammes of cashew nuts per flower, compared to conventional seeds that only produce 11 kilogrammes.
The crop is primarily grown in Coast, Mtwara, Lindi, and Ruvuma, which collectively produce nearly 80% of the crop.
Mbeya, Katavi, Rukwa, Kilimanjaro, Singida, Mwanza, Iringa, Tabora, and Tanga are among the 17 regions where the crop is grown in recent years.
In recent years, the crop has become the country's top earner of foreign currency.
Cashew nuts produced more than $565 million in the 2017/18 season, according to Ministry of Agriculture data, outpacing contributions from cotton, coffee, and minerals.
225,106 tonnes and 232,682 tonnes of cashew nuts were harvested in the previous harvesting seasons (2018/19 and 2019/20, respectively).
Source : www.afrcnews.tz