M a r k e t N e w s
KENYA: Olkaria I Geothermal Power Plant To Gain 83 Mwe Before End of 2021
Posted on : Tuesday, 25th May 2021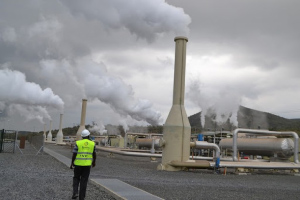 Kenya Electricity Generating Company (KenGen), Kenya's largest power producer, plans to commission unit 6 of its Olkaria I geothermal power plant before the end of this year. The steam plant is being built by the Japanese companies Marubeni Corporation and Fuji Electric.
Marubeni Corporation is on track to meet its line-up. The Japanese company chosen by KenGen for the construction of Unit 6 of the Olkaria I geothermal power plant had pledged to deliver the entire facility by year 2021. Afrik 21 reported on this in the year 2018. According to Rebecca Miano, KenGen's CEO, who recently spoke at an online conference, the new steam turbine will be operational by the end of this year.
This is good news for the KenGen as it continues to increase its portfolio of geothermal power plants in the Rift Valley of western Kenya. Marubeni Corporation subsequently awarded the construction of the new Olkaria I unit to its compatriot Fuji Electric. The geothermal power plant expansion project is financed by the European Investment Bank and the Japan International Cooperation Agency.
Expected Capacity of 273.7 Mwe
The Olkaria I geothermal power plant Located in Nakuru County, at the eastern end of the Rift Valley, has 5 units with a capacity of 185 MWe. With the ongoing rehabilitation of turbines 1, 2 and 3, the plant will have a capacity of 190.7 MWe. The 6th unit of Olkaria I will add 83 MWe, bringing the capacity of the plant to 273.7 MWe.
The new facilities will increase Kenya Electricity Generating Company's geothermal power generation capacity. The company is the one of the largest producer of geothermal energy on the African continent, with a current installed capacity of 706 MWe. The company, which employs more than 2,500 people, exports its know-how to other countries with geothermal potential in East Africa. In Ethiopia, for example, KenGen is drilling for the Tulu Moye geothermal project. This internationalisation could be extended to Djibouti, Tanzania, Uganda and Zambia. These countries have already begain to explore future geothermal drilling fields.
Source : www.abafnz.com