M a r k e t N e w s
META Electric Starts Leasing BYD T3 Electric Vans In Kenya
Posted on : Wednesday, 5th May 2021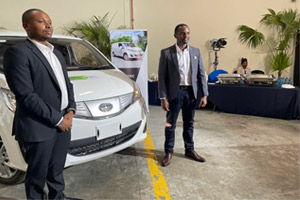 Another epic leapfrog occurrence may be on the horizon for Africa. We've seen it before in sectors like telecommunications and fintech. After being exposed to the world of cell phones and, later, mobile money, the underserved and unbanked population jumped right in. They actually bypassed the fixed-line era and brick-and-mortar banking when better technologies and facilities became available, long before conventional telecoms and banking services reached them.

A similar potential exists in the automotive industry. A combination of Africa's low levels of motorization, rising annual vehicle sales (at least 10% in most African countries, compared to 4% in Europe), increased congestion, air pollution, and a ballooning fiscal burden of high fuel prices are creating the ideal environment for a rapid transition to electric mobility.

META Electric, a subsidiary of Maris Ltd, an Africa-focused investment firm, aims to help accelerate the transition by providing a leasing platform with direct sales options for commercial electric vehicles, beginning with BYD's electric T3 van. Vans play an important role in the global economy, so electrifying them makes sense. For fleet owners, reducing downtime and lowering maintenance requirements and costs unlocks efficiencies. Furthermore, electric vehicles would eliminate carbon and pollutant emissions in Kenya's transportation sector by default. META Electric will begin by focusing on fleet operators in the e-commerce, hospitality, logistics, and security industries, before spreading to other markets.

Given its outstanding features, the T3 van is suitable for these businesses. The van is powered by BYD's patented NCM battery, which has a capacity of 50.3 kWh and has a driving range of 300 kilometres on a single charge. The 40kW DC charger will charge from 0 to 100% SOC in just 1.3 hours. The van will be charged in about 8 hours using a 6.6 kW AC charger. The BYD T3 meets the transportation needs of most urban logistics networks, with a 3.8m3 cargo room and 0.7 tonne payload, and META Electric's leasing programme would lower the barriers to entry for fleet operators who do not want to pay for the vans outright.

In the past, as in most African countries, many people desired to own their cars. People take pride in owning automobiles, but the high sticker prices of new vehicles (ICE or EV) are a big obstacle, which is why used vehicles from Japan and the United Kingdom account for 90% of all vehicles imported into Kenya. META Electric's leases are available for up to four years and provide insurance and maintenance, providing consumers with a risk-free path to electric mobility.

META Electric has received two new electric vans, which will be leased to Nairobi-based businesses committed to reducing their carbon footprint. Neo Kenya Mpya, a Nairobi-based company, is one of the companies that has already obtained one of META Electric's electric vans, a promising sign for the future of greener public transportation. "The battle against climate change is critical, and we need environmental trailblazers willing to go above and beyond at this early stage of adoption. META Electric aspires to be a trailblazer." META Electric's General Manager, Brian Chege, agrees.

Kenya is one of the most electric vehicle-friendly countries in the world. Renewables, such as wind, geothermal, hydro, and some utility-scale solar, now account for roughly 93 percent of Kenya's installed generation capacity. By charging their vehicles at their locations during the night, fleet operators can take advantage of lower off-peak tariffs. We expect to see more of these vans on Kenyan roads in the near future.
Source : www.exafnz.com