M a r k e t N e w s
Tanzania President Samia Suluhu set to visit Kenya
Posted on : Tuesday, 4th May 2021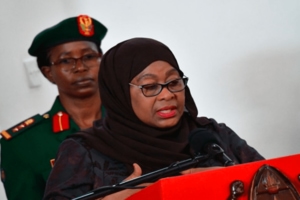 Tanzanian President Samia Suluhu Hassan is scheduled to arrive in Kenya for a two-day State Visit on Tuesday, May 4th.
On the same day, Kenyan President Uhuru Kenyatta will welcome her to State House in Nairobi.
During her visit, Samia will address the joint houses of Kenyan Parliament, according to Tanzanian government spokesperson Gerson Msigwa.
Other details about Samia's visit will be published in due course, according to State House Spokesperson Kanze Dena.
Tanzania's president, who succeeded John Pombe Magufuli after his death in March, will visit Nairobi nearly five years after her predecessor did.
The two heads of state are also likely to discuss tariff wars between the two nations, which have hindered trade over the years.
Tanzania's president said that the two countries have a long relationship and that relations should not be severed over conflicts that can be settled.
Suluhu recommended that Tanzania and Kenya reactivate the Joint Permanent Commission (JPC), which she believes will play an important role in improving bilateral relations.
President Suluhu specifically assured President Kenyatta that her government is ready to resume all of the good work that her predecessor, the late John Magufuli, was doing in resolving the issues between Tanzania and Kenya since East African Community States are traditionally relatives, neighbors, and friends.
Uhuru has told President Suluhu that Kenya is always willing to cooperate with Tanzania by encouraging cooperation.
After a one-day state visit in Uganda on April 11, this will be President Samia's second state visit.
Source : kqlvbz.co.ke