M a r k e t N e w s
Kenya's Nakuru County Partners With UK Firm To Automate Medical Records
Posted on : Wednesday, 28th April 2021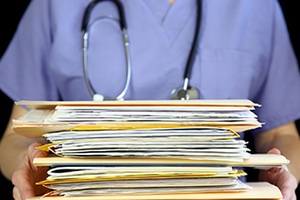 The County Government of Nakuru has partnered with a software developer based in the United Kingdom to automate medical records and revenue collection at all public health facilities in the county.
Dr. Daniel Wainaina, Acting Chief Officer for Public Health Services, said the Elephant Healthcare Turnkey Solution, based in London, will digitize service delivery at Bahati, Langalanga, and Olenguruone Sub-County Hospitals on a trial basis.
Dr Wainaina said the device was developed to collect patient data, stock inventory, fees, insurance, and monitoring at all healthcare service delivery points after signing a Memorandum of Understanding (MoU) with the information technology firm's business development officer, Ms Taka Awori, at the County Headquarters.
"It also gives patients access to their medical records via smartphone, mobile phone, laptop, and cybercafés without allowing them to change them, while health professionals are granted access based on their positions in the patient care cycle," said the Acting Chief Officer.
Technical and operations teams for the Elephant Healthcare Turnkey Solution are based in Kenya, Pakistan, and Lebanon. Dr. Toromo Kochei, the County Partners Liaison Officer, was also on hand to witness the signing of the MoU.
The project, according to Dr. Wainaina, would supplement the Department of Health Services' plans to use the Electronic Medical Records (EMR) system to automate all medical records.
The County Government and the United States Agency for International Development are funding the Sh 51 million automation initiative (USAID). Automation has reached 95% completion at Nakuru Teaching and Referral Hospital, as well as Naivasha, Molo, and Keringet Sub-County Hospitals.
Dr. Wainaina stated that the cashless system used by the health facilities has improved transparency in revenue collection and reduced instances of graft by preventing revenue leakages that cost the County millions of shillings per year.
Patients deposit money for bills for medical facilities by bank agents and M-Pesa using the electronic method and are given receipts.
Ms Taka noted that the low-cost software is intended for the most difficult-to-reach areas of the country and can be deployed remotely in minutes.
"It works on any internet-connected electronic computer and does not require the installation of any expensive servers. We have data protection policies in order to ensure that sensitive and medical information is kept private. "Effective decision-making requires high-quality data management," she added.
Source : kznbhq.co.ke