M a r k e t N e w s
TADB providing credit to farmers through SCGS
Posted on : Monday, 26th April 2021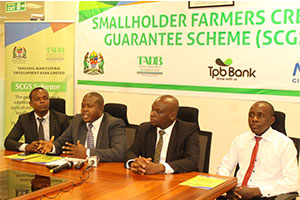 Tanzania's Agricultural Development Bank effectively administers its Smallholder Credit Guarantee Scheme (SCGS) through the Market Infrastructure Value Addition and Rural Finance (MIVARF) programme.
SCGS is designed to support the bank's strategic goal of increasing smallholder farmers' access to low-interest loans and other affordable terms. The scheme is supported by the International Fund for Agriculture Development (IFAD) and implemented by MIVARF, which is part of the Prime Minister's Office.
The main aim of TADB's SCGS is to encourage Tanzanian commercial banks, cooperative banks, and microfinance institutions to increase and enhance smallholder farmers' access to credit. Smallholder farmers often struggle to find appropriate and affordable financing from the formal financial sector.
TADB also encourages lending to other value chain businesses with close links to smallholder farmers. TADB also supported horticulture, which employs a large number of women and youth.
"Since its inception in 2018, TADB has been able to form partnerships with ten (10) financial institutions, including NMB Bank, CRDB Bank, NBC Bank, Azania Bank, TPB, Stanbic, Finca Microfinance, UCHUMI Commercial Bank, Tandahimba Community Bank (TACOBA), and Mufindi Community Bank (MUCOBA). TADB claims that by working together, it will be possible to meet more smallholder farmers." TADB's Principal Officer, Agency Fund Management, George Nyamrunda.
Partner financial institutions had disbursed agricultural loans worth Sh63.45 billion to 8,392 direct and 748,377 indirect beneficiaries by December 2020, two years after the SCGS was launched at TADB.
The SCGS funds were used to address issues in 29 value chains, including cashew, paddy, cotton, coffee, poultry, corn, cassava, and sugarcane.
"Through this scheme, TADB also supported horticulture, which employs many women and youth. Smallholders in sunflower, sesame, poultry, and fisheries have also benefited from the scheme." Mr. Nyamrunda said.
Smallholder farmers in 27 regions throughout Tanzania's mainland and Zanzibar have been reached via the TADB Smallholder Credit Guarantee Scheme.
Smallholder farmers who participate in development activities have been particularly targeted by SCGS. Production accounts for more than 60% of all loans disbursed, with agro-processing coming in second (30 percent).
"We were able to disburse loans at various points in the value chain. Production received Sh 38.16 billion in loans, followed by aggregation and processing at Sh 19.2 billion, packaging materials at Sh 2 billion, agro-inputs at Sh 1.6 billion, aggregation/trading at Sh 1.1 billion, storage facilities at Sh 1.08 billion, and post-harvest management at Sh 154.7 million, he clarified.
Farmers received a total of 21 tractors and 7 power tillers. Farmers were also given a combine harvester for the paddy value chain and a cane loader for the sugar value chain. Farmers' production is expected to rise as a result of all of this. Furthermore, three warehouses with a total storage capacity of over 24,000MT for cashews and cereals have been built.
Tanzania Postal Bank (TPB) Agricultural Credit Manager Lucius Mtewele says that before partnering with TADB, TPB did not lend to smallholder farmers. However, they have recently begun to provide loans to smallholder farmers for agricultural inputs and mechanisation on more favourable repayment terms.
Source : www.peoplenow.com