M a r k e t N e w s
AfCFTA, UNDP sign strategic partnership to boost trade in Africa
Posted on : Friday, 23rd April 2021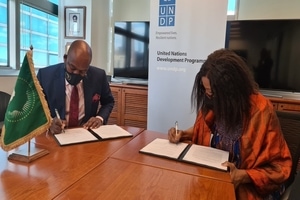 The Secretariat of the African Continental Free Trade Area (AfCFTA) and the United Nations Development Programme (UNDP) have signed a strategic agreement to foster trade as a catalyst for Africa's socioeconomic recovery from the Covid-19 crisis, and as an engine of sustainable development in Africa, especially for women and youth, in accordance with the SDGs and Agenda 2063.
The agreement was signed by AfCFTA Secretary General Wamkele Mene, who was accompanied by Ambassador Fatima Mohammed Kyari, the African Union's permanent representative to the United Nations, and Ahunna Eziakonwa, the UN Assistant Secretary-General and Head of the UNDP Regional Bureau for Africa.
"The AfCFTA is more than just a trade liberalization tool. It promotes economic growth and long-term sustainability. Africa's position in global trade must be rebalanced. As African countries pursue Covid -19 recovery strategies, this cooperation with UNDP will provide impetus on the ground in AfCFTA State Parties to ensure that women and youth are the primary beneficiaries of the AfCFTA," said Mene.
The agreement will harness UNDP's presence in all African countries, operating in close cooperation with other UN organizations, which will provide direct assistance to the AfCFTA Secretariat in the form of a US$3 million financial grant, which will improve AfCFTA Secretariat advocacy among policymakers, industry, civil society, education, youth, and other stakeholders.
AfCFTA went into effect on January 1, 2021, forming a sector of 1.2 billion people and the world's eighth economic bloc with a total GDP of US$3 trillion, which is projected to more than double by 2050.
At its inception, the AfCFTA has been ratified by 36 countries and now has 90 percent of tariff offers and 34 service offers, allowing for sound business and investment decisions in intra-African trade and improving rapid action for trade as a way of achieving the Africa We Want.
Source : lkldad.com