M a r k e t N e w s
Ghana's health startup mPharma launches in Ethiopia
Posted on : Wednesday, 24th March 2021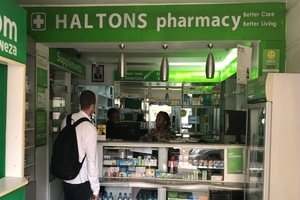 Belayab Pharmaceuticals has signed a franchise agreement to open Haltons Pharmacies in Ethiopia with Ghanaian health tech startup mPharma.
Under the terms of the agreement, mPharma will use its technology platforms, expertise, and extensive experience working with hospitals and retail pharmacies across Africa to help Ethiopia achieve universal medical coverage for all of its patients.
mPharma and Belayab Pharmaceuticals are preparing to open two active pharmacies in Addis Ababa this year. mPharma currently operates in Ghana, Nigeria, Zambia, Rwanda, and Kenya, serving over a million patients annually through over 300 partner pharmacies. In 2019, the startup purchased Halton, Kenya's second-largest pharmacy chain, gaining control of 27 locations throughout the country.
"We are pleased to announce our entry into the Ethiopian market in collaboration with Belayab Pharmaceuticals, as we continue to strengthen our long-standing commitment to patient-centered partnerships. This is an opportunity to create a commercially viable and scalable health effect in Ethiopia by increasing access to high-quality essential medicines that will benefit the whole society by ensuring that everyone can access affordable and safe treatment." Gregory Rockson, CEO mPharma, said.
Under this collaboration, each pharmacy that opens will provide Mutti – mPharma's health membership program to patients in Ethiopia, and patients will benefit from discounts on their medications as well as funding opportunities that can help ease the costs of healthcare.
Mutti will primarily benefit uninsured patients in Ethiopia who pay for their medications out of pocket and thus bear the brunt of high drug prices.
Michael Ghebru, Shareholder, Belayab Pharmaceuticals said, "Through a coherent list of alternatives at each location, the entrance of Haltons Pharmacy can provide patients in Ethiopia with a bigger selection and convenience. Ethiopian pharmacies are mainly run by family companies, and there is a lack of coherent product availability throughout the country."
Ghebru further said, "Haltons will play a pivotal role in ensuring that key medications and goods are delivered to patients across the world, including in underserved areas."
Source : afrfnj.co.et