M a r k e t N e w s
Kenya's construction sector is expected to grow
Posted on : Tuesday, 23rd March 2021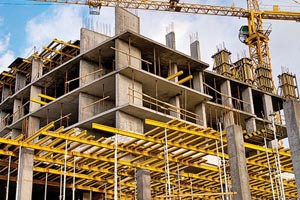 Kenya's construction industry is currently booming. The Kenyan government has invested heavily in the construction sector in order to upgrade infrastructure such as road networks while also providing new residences for locals (who are supported by banks in obtaining loans to buy apartments/cars).
The real estate and construction industries, according to the Kenya National Bureau of Statistics, have been some of the main drivers of economic growth in Kenya for the past five years, suggesting that the country's construction industry is well-developed. Construction of residential, commercial, and industrial buildings, including prefabricated low-cost housing, is becoming more feasible as the population increases.
According to the country's economic outlook, the construction industry is one of the main areas that will and is attracting investors to the country. There are numerous investment opportunities, especially in the areas of slum and informal settlement upgrading, urban renewal, middle and low income housing development, and the manufacture and supply of building materials and components.
Infrastructure growth is a key component of Kenya's Vision 2030, and GDP From Construction in Kenya increased to 83989 Million KES in the third quarter of 2020 from 72888 Million KES in the second quarter of 2020. According to the Kenyan National Bureau of Statistics' (KNBS) Economic Survey, approximately 148,000 people are formally working in the domestic building and construction industry.
The sector's players range from local micro-enterprises to international multinational civil engineering and construction behemoths. Despite the fact that building and construction contractors must be licenced with the National Construction Authority (NCA), a large number of unregistered contractors work in the informal sector
Kenya has the highest literacy rate in Africa, and its population is renowned for being well educated and hardworking. One benefit for international investors is that everybody speaks English, which is the universal language. This makes it easy for newcomers to understand and adjust to their new surroundings.
As a result of its optimistic rising economy, natural reserves, and a healthy workforce that can be easily interacted with, Kenya serves as a good starting point for beginning business in Africa.
According to a recent BMI Research report, the local construction industry will expand by 8.7 percent this year and will remain stable until 2026, with an average growth rate of 6.2 percent – putting Kenya ahead of all Sub-Saharan African countries.
Kenya's construction market is expected to grow significantly by 2026. Significant funding for the sector will come from the Kenyan budget, which will be backed up by foreign investment in the country's expected infrastructure growth.
Source : Bizmart