M a r k e t N e w s
Tanzania: Wonders of $32m Songwe Project
Posted on : Wednesday, 10th March 2021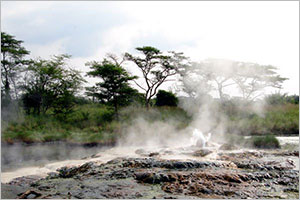 Songwe Region has started Knocking into its abundant economic potentials with the on-going implementation of the Songwe Geothermal Power and Direct Use Project.
The USD 32-million geothermal power project at Majimoto Village in Mbozi District is expected to generate between 5MW and 38MW when completed in the year 2023.
Before the power generation starts in the year 2023, the Tanzania Geothermal Development Corporation has introduced direct use potentials including the geothermal tourism, green house, drying crops, fishing and poultry farming.
Songwe's regional commissioner Brigadier General Nicodemus Mwangela said the regional office is presently improving road infrastructures while attracting investors in various economic potentials surrounding the project.
"I have ordered the Tanzania Rural Road Authority and the project contractor and Tanzania Geothermal Development Corporation to construct a tarmac road from Nanyara Ward, to about 10 kilometres, to the project area," Nicodemus Mwangela told The Citizen.
The region, according to Nicodemus Mwangela, is also conducting awareness campaigns to attract investors and traders from inside and outside the region.
"I have been holding meetings with business minded people on the available opportunities. I will also, personally, take some investors to the sites and show them what potentials we have," Nicodemus Mwangela said over the phone.
Mbozi district commissioner John Palingo said his role was to create conducive environment for business and investment that would attract investors and traders as well as awareness creation to residents.
"We are ready for the project and I'm responsible to publicise it to the resident and the world," John Palingo said.
Tanzania Geothermal Development Corporation's general manager Mr Kato Kabaka said geothermal power generation from both Songwe and Lake Ngozi geothermal projects is expected to commence in the year 2023.
"We have already hired an Italian consultancy company, ELC Electro consult S.P.A that are charged with managing exploration activities. The company's job will be to design a drilling programme, preparing a feasibility studies of roads, water and electricity infrastructure as well as giving specifications of the drilling machines that the government will procure after finding eligible drilling firm," he said.
Mr Kato Kabaka said before starting generating electricity, Tanzania Geothermal Development Corporation has started using geothermal for poultry farming and tourism purposes.
Source : www.abafnz.com