M a r k e t N e w s
Finland grants Sh14 billion to a company to boost business in East Africa
Posted on : Friday, 5th March 2021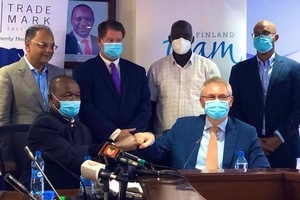 Finland provides a grant of Sh14 billion to a company to help it expand its business in East Africa.
The Finnish government has given TradeMark East Africa (TMEA) an additional grant of Sh14 billion to support the region's trade and economic development.
The grant is expected to help TMEA's role in enhancing trade across the East African Community (EAC) and enhancing mutual stability in the region, according to Finnish Ambassador to Kenya Erik Lundberg. The envoy stated that the grant arrangement would enhance regional economic integration in the long run via TMEA over a three-year cycle, adding that the fund is replenished every three years.
The funding to TMEA, according to Ambassador Lundberg, would help expanded trade in the area as well as a continuing response to Covid-19 under the Safe Trade Emergency Facility.
Ambassador Lundberg and TMEA Board chairman Ambassador Erastus Mwencha signed the agreement at the Kenya Ports Authority (KPA) headquarters in Mombasa. Dr. Kevit Desai, the East African Community (EAC) Affairs Principal Secretary (PS), TMEA Chief Executive Officer (CEO) Frank Matsaert, TMEA Country Director Ahmed Farah, and the Executive Secretary, Northern Corridor Secretariat Justus Nyarandi were also present at the signing ceremony.
The deal, according to the Finnish ambassador, would help the country achieve its shared aim of increasing trade by reducing the time and expense of shipping freight from Mombasa to the hinterland. He stated that Finland expects that expanded regional trade, combined with private sector assistance, would stimulate economic development, employment production, and poverty reduction.
Ambassador Mwencha stated that the East African Community's (EAC) regional trade integration efforts would be supported by the longstanding relationship with Finland. "Over the years, our long-standing partnership has eased the flow of goods and services in East Africa," said Ambassador Mwencha who is also a former Secretary-General of the Common Market for Eastern and Southern Africa (COMESA).
The grant money would also go into Covid-19 economic growth plans, according to the TMEA chairman.
According to TMEA CEO Frank Matsaert, a portion of the grant will be used to offset the effects of climate change, noting that the area has been struck by severe weather conditions such as heavy rains and floods in the past, causing infrastructure damage and adversely affecting transportation efficiency.
The grant, according to Dr. Desai, will be used to support port developments in emerging technologies and advances in information and communications technology (ICT) as well as enhancing overall market competitiveness. He also announced that the EAC is harmonizing its axle load regulations in an attempt by Kenya, Uganda, and Tanzania's partner states to reduce transportation costs and prevent overloading that harms road infrastructure.
Source : ghtdl.co.ke