M a r k e t N e w s
EU & Tanzania sign Sh308 billion deal for six projects
Posted on : Friday, 5th March 2021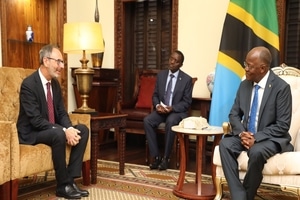 The European Union and Tanzania's government signed an agreement yesterday to fund the implementation of six projects aimed at fostering economic growth and improving people's lives.
According to information released after the signing of the deal, the government will collect grants totaling 111.5 million euros (Sh307.9 billion) for programs to be undertaken in both Tanzania Mainland and Zanzibar.
The EU issued 23 million (Sh63.5 billion) as the first batch of funding since the two sides signed a Memorandum of Understanding (MouU) for the award. Permanent secretary Dotto James of the Ministry of Finance signed on behalf of the administration, and EU ambassador to Tanzania Manfredo Fanti signed on behalf of the EU Delegation.
Mr. James stated that the funds were given on an unconditional basis and that they were made possible by the current strong bilateral ties. After 1975, when the EU signed the first Partnership Agreement with the African and Caribbean States, Tanzania has secured around 2.394 billion euros (Sh6.6 trillion) in grants from the EU and 270.9 million euros (Sh748.2 billion) in concessional loans from the European Investment Bank (EIB). He went on to say that the funds have become a driver for industrial growth, policy reforms, road connectivity, aviation services, electricity, agriculture, and environmental and climate change.
He also listed the schemes to be undertaken and their sum of money in brackets as an upgrade of the energy sector (Sh96.7 billion), integrated approach to sustainable domestic fuel solutions (Sh82 billion), beekeeping value chain (Sh27.6 billion), plant protection facilities for improved food safety (Sh27.6 billion), market climate, expansion, and creativity (63.5 billion), and technical cooperation facility-phase two (Sh9.7 billion).
According to him, the assistance was intended to meet the needs and problems found in national development plans, including the second five-year development plan, which runs from 2016 to 2020. "In terms of assisting governments in promoting sustainable growth, the EU is one of our most important strategic allies. This is supported by the EU's substantial financial assistance to Tanzania," he said.
Ambassador Fanti said that his office would work to ensure that Tanzania's products find a market in EU countries, emphasizing that the country should strive to produce goods that meet international requirements. Tanzania's ties with the EU would be sustained as far as possible, he said, and he called for cooperation to be expanded to other areas. "The new agreements we signed today will resolve issues in a variety of industries.
The event was also attended by Prof Riziki Shemdoe, permanent secretary of the Ministry of Industry and Trade, who said that the funds would boost the market climate by concentrating on levies and business licenses. "The government has been working to improve the corporate climate, and we are continuing to make our citizens' lives easier. As a result, this capital will go a long way toward fulfilling those objectives," he said.
Source : nenafricdb.co.tz