M a r k e t N e w s
UK To Step Up Trade With Kenya After the Latest Trade Deal
Posted on : Monday, 15th February 2021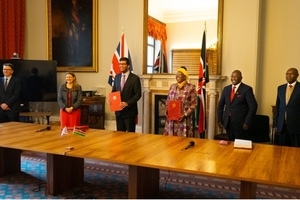 Jane Marriot, British High Commissioner to Kenya, said the United Kingdom has reaffirmed its pledge to scale-up trade with Kenya.
Ms Marriot continued that as part of their economic relationship, her country was eager to see foreign currency sales return to a win-win scenario for both countries.
Despite the Covid-19 global pandemic, the High Commissioner added that 43 percent of Kenya's vegetable exports go to the UK annually, including last year.
Speaking after touring the Meru County Flamingo Ibis farm that grows vegetables and flowers for export to Europe, Marriot pointed out that trade was at the core of the two nations' economic partnership.
Trade and Industrialization Cabinet Secretary Betty Maina, who was also present, said that the Economic Cooperation Arrangement between the two nations was recently signed between Kenya and the United Kingdom.
"The agreement gives us the opportunity to expand exports to the United Kingdom from Kenya and particularly to farmers whom we encourage to enter and take advantage of this market," The CS said.
She went on to say that Kenya exports Sh. 40 billion worth of goods to the UK per year, remembering that, considering the Covid-19 pandemic, the country shipped goods worth more than that last year.
"The message from us is that, as we are observing on this farm, this National Government trade negotiation programme has really impacted on the land."
The recently signed trade agreement between Kenya and the United Kingdom hailed Meru Governor Kiraitu Murungi, who also honoured the feature, stating that it will create more jobs for people as seen on the farm, which has employed more than 600 local employees.
"We already have 300 contract growers who provide goods for sale to this farm and will therefore sustain their families," Governor Kiraitu said.
Source : neafric.co.ke