M a r k e t N e w s
Petco Kenya's first material collection facility in Kajiado county
Posted on : Wednesday, 30th December 2020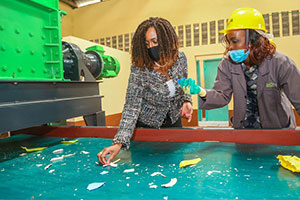 Kenya PET recycling company (PETCO) has launched a material collection facility in the named county that will boost the waste collection and segregation in collaboration with the Kajiado County Government and the National Environment Management Authority (NEMA).
A PETCO-sponsored pelleting facility worth KES 50 million was designed to help the county handle its rising waste material by processing up to 10 tonnes of PET per day. The facility also has produced jobs for 100 local residents who obtain and sort PET from different collectors and operate pellet crushing equipment.
The segregation plant is the creation of the local Taka Taka ni Mali Corporative Society and the Kajiado County Government through the First Lady H.E. Edna Lenku aiming at maintaining healthy environments while giving young people in the county job opportunities.
PETCO Kenya works with 14 partners to mop up plastic bottles around the country by introducing and expanding waste collection and segregation centres. These centres have grown into major innovation centres, manufacturing useful products from waste gathered and separated.
PETCO continues to support this industry through educating and encouraging the separation of resources, the recovery of recyclable waste material from landfill sites, the development of jobs improved health standards through ensuring that waste traders recognise the value of sound health management as they operate in the sector through the provision of PPEs.
PETCO Chairman, David Olang, quoted, "We are very pleased to introduce this essential facility, which will not only bring environmental sustainability to this county, but will also offer youth employment opportunities through our "Taka ni Mali" initiative.
We believe in the obligation of the Extended Producer community. Some of our partners, are committed to making all packaging 100% recyclable by 2025 and to using 50% of recycled content in their bottles and cans by 2030.
Source : www.techwen.com