M a r k e t N e w s
Africom Donates Mobile Field Hospital to Kenya Border Police
Posted on : Monday, 30th November 2020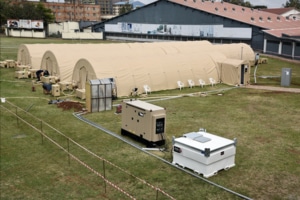 The Africa Command of the United States Military (AFRICOM) donated a mobile field hospital worth SH173 million and transferred an additional SH131 million in vehicles and training equipment to the Kenya Border Police Unit (BPU).
The U.S. Embassy said the new equipment is intended to increase police mobility in border areas, improve weapons capabilities and create training capacity for new officers.
The embassy also said that it would provide superior conventional weapons to the police force to protect and defend Kenyans against terrorist organisations and violence.
Field hospitals are deliberately constructed in such a way that they can be transported and assembled even in remote areas and can accommodate up to 40 patients in any condition with full medical and operational needs.
"Such state-of-the-art, fully fitted, portable medical facilities can be quickly transported to a disaster scene or where people do not have access to regular health care," the embassy said.
For the current financial year the grant from the German-based foundation is the first release of a larger three-year assistance package of Sh1 billion offered by the United States to the police force.
U.S. Ambassador to Kenya Kyle McCarter noted that the donation is an endorsement of a good health and safety relationship between the United States and Kenya in the fight against terrorism and extremism.
"The donation is part of the ongoing pledge by the United States to Kenya and East Africa's protection and security. The United States has given over Sh1 billion in training alone and sponsored 17 counter-terrorism courses for 250 students through our law enforcement collaborations with Kenyan police units," he said.
Since the beginning of the pandemic, the United States has contributed over Sh60 billion annually to tackle HIV/AIDS, tuberculosis and malaria in the last 15 years and an additional Sh7.6 billion in supplies, training, and other services to fight COVID-19 in Kenya.
Source : africnews.co.ke