M a r k e t N e w s
The Development of The Loft Residences at Two Rivers starts in Kenya
Posted on : Wednesday, 18th November 2020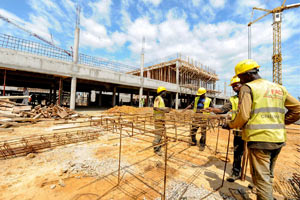 The construction works of Loft Residences at the Two Rivers Development in Kenya have started following a groundbreaking ceremony by the project's developer, Centum Real Estate Limited. The project will be carried out by Seyani Brothers & Co., the leading general construction firm in the East African region.
Speaking at the groundbreaking ceremony, Samuel Kariuki, Managing Director of Centum Real Estate, said, Seyani Brothers is a Tier 1 contractor who will ensure that the product is finished to the highest standards & efficiency and within the timeline stipulated, a guarantee that Centum Real Estate offers to all its customers.
The Centum Real Estate MD said, "This is a high-end product with each unit providing 3,014 square feet of urban elegance. At the heart of the architectural design is a large terrace that opens into large and spacious private gardens – the first in Kenya for condominium-style living."
Loft residences built for the high-end segment of the property market include 4-bedroom+DSQ duplexes, each on two floors. The construction also includes a multifunctional clubhouse, a heated infinity pool and several jogging tracks within the Two Rivers development.
As of October of this year, almost half of the units at the Loft Residences had been sold off-plan, a clear indicator of the market for this specific commodity.
The Two Rivers Residential District is situated on a 30-acre piece of land within the broader Two Rivers Development Area. It will contain nine unique residential courts, three of which are currently under construction. This one, Includes the above-listed Loft Dwellings and the Riverbank Apartments and Cascadia Apartments.
The building works are expected to be finished by the tenth month of 2022.
Source : constructionreviewonline.com