M a r k e t N e w s
Nigeria: Experts Call for Gas Revolution to Diversify Economy
Posted on : Wednesday, 19th November 2014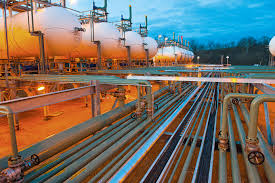 Changing the paradigm of continuous gas flaring which has ranked Nigeria as the second largest Gas flaring nation after Russia and Iraq to a country that earns more revenue from gas that surpasses income generated from oil production, was part of the resolution of experts and participants across Nigeria ,Africa and Europe who attended the 32nd edition of National Association of Petroleum Explorationists (NAPE ) held in Lagos over the week end.
They called for the fast-tracking of gas revolution agenda as part of the agenda to diversify Nigerian Economy through promoting gas exploration and development that generate more revenue for the development of Nigerian economy .
The theme of the conference was : "Driving an Executable Gas flare-out agenda for Nigeria's Oil and Gas Industry", with the sub -themes: "Flare Elimination in the Running of Mature Oil & Gas Fields", "Monetizing Gas The Pioneers Experience", " Indigenous Participation and Partnering to Deliver Gas to an IPP Gas Aggregator as a tool to Eliminate Flaring in Nigerian Oil Fields", "Gas Infrastructure Development Challenges ", and "International Perspectives of the Nigerian Gas Master Plan". The experts noted that Nigeria is the seventh largest oil producer in the world , the largest oil and gas producer in Africa, with an estimated oil production capacity of over 2.9million barrels per day , sas reserve of about 187 trillion cubic feet.
According to them ,Nigeria still flares about 2.0 billion cubic feet of gas daily and is ranked among some of the highest gas flaring countries in the world with over 100 flare sites in the Niger Delta region which make her the highest emitter of greenhouse gas in Africa.
The Minister of Power, Prof. Chinedu Nebo who spoke at the event said that Nigeria will require about 70 percent of gas produced to meet her power supply need. He explained that with the number of households in Nigeria standing at 29 million,with an average consumption of 1MW for some 500 homes, adding that at maturing, electricity Supply industry for consumers will stand at 60GW of power daily .
Nebo who was represented by his Senior Special Assistant on Gas and Power, Mr. Frank Edozie, said, of these, about 42 GW should be fuelled by gas, adding Nigeria's daily power output stood 4 GW of which over 3.1 GW is fuelled by 880 MillionStandar Cubic Of gas daily.
He explained the recent announcement of a new pricing regime for Domestic gas to Power has opened up a new vista for the production of gas for domestic consumption, adding that the country now need to look more at the exploitation of non-associated gas. He called for the harnessing of marginal fields and inland basins, including the Anambra and Bida basins and the Benue Trough, to boost the exploration and .development of oil and gas resources.
The Minister explained that the country's gas growth needs for power have to be met through dedicated gas developments, targeted at producing gas for power, saying the advantages of doing this are many and would lead to diversification of the sources of gas supply ,
The Director of Department of Petroleum Resources Mr. George Osahan in his contribution said, the Federal Government has sealed plans to invest $5billion on annual basis for the next five years to eliminate gas flaring in all the mining concessions in the oil and gas sector.
He explained that Government has changed the policy thrust from sanction to incentives as part of the measure to monetize natural gas resources.
According to him, Government's change of paradigm was based on the fact that sanction imposition had never achieved the aims and the objective of adding value to Nigerian gas resources , adding that it is no longer punishment any more, rather, incentives geared towards achieving a specific aim .
He observed that companies that flare gas do so because there is no project to capture and monetize the gas resources for the benefit of all the stakeholders ,adding that over eleven companies account for 60 percent of gas flared in the country which makes the country the second largest nation that flares gas after Russia. He indentified some major oil producing firms as culprit of gas flaring in Nigeria
The Managing Director of Total Upstream Companies of Nigeria Elizabeth Proust inn her contributions a the event said, over 65 billion barrels of oil in the new frontier basins of Niger Delta region, Benue Trough, Anambra, and Lagos etc have remained unexplored due to uncertainty in the Nigerian oil and gas investment environment.
She called for the quick passage of the Petroleum Industry Bill (PIB), into law by the National Assembly to clear uncertainty in the industry and encourage new investments, and also allow exiting investors take final investment decision on oil and gas projects that boost the development of Nigerian economy.
Total boss urged geologist and the petroleum engineers to work together to discover more oil and gas to replace Nigerian oil reserve that is depleting fast without replenishment.
According to her, "There are considerable unexplored frontier basins in the deeply buried onshore, offshore and ultra-deep offshore Niger Delta of over 50 billion barrels of oil equivalent and about 10-15 billion barrels of oil equivalent in the Lagos Abrupt Margin and Upper Benue Trough."
"For Nigeria's oil and gas reserves to grow and for companies to invest in exploration and development of assets, there must be a clear, fair and stable fiscal and regulatory regime that allows long term planning and investing," Proust added.
The President of NAPE, Mrs. Adedoja Ojelabi in her address observed that Nigeria still flares about 2.0 bcf of gas day and is ranked among some of the highest gas flaring countries in the world, adding that there are still over 100 flare sites in the Niger Delta region which make the nation the highest emitter of greenhouse gas in Africa.
She explained that the fines imposed by the Government have also increased over the years to about N10/mmscf /day (US$0.06/mmscf /day) before hiking the penalty to $3.50.
She identified some of the key issues put forward for hampering the effective reduction in gas flaring in the Niger Delta as, legal issues regarding gas flaring regulatory framework, capacity to create enabling environment, fiscal and contractual framework for associated gas.
She added that studies have revealed that Nigeria loses over $17 billion annually to gas flaring.
Mr. Ubaka Emelumadu, Director, Gas, Shell Petroleum Development Corporation (SPDC) , in his presentation, "Obstacles to Developing Gas Infrastructure in Nigeria" stated that with three new gas projects namely; Forcados -Yokri, Adibawa and Otumara-Saghara, Shell Nigeria is set to achieve more than 80 per cent gas flare out in its mining concession by 2015.
Mr. Emelumadu, said the projects is expected to end gas flares-out at the same time monetize Nigeria's abundant gas resources. He added that SPDC Joint Ventures (JV) has made good progress by successfully reducing volume of gas flared as well as gas flaring intensity by 60 per cent over the last decade
Source : ALL AFRICA