M a r k e t N e w s
KenGen to set up an industrial park at Olkaria-Kenya for investors
Posted on : Tuesday, 18th November 2014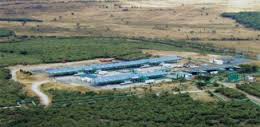 Kenya Electric Generating Company (KenGen) is planning a new industrial park at Olkaria area to offer commercial facilities to interested companies. Interested companies will have opportunity to build plants in the park, and get subsidies on power.
The planned industrial park will be constructed on a 1, 200 acres of land already identified at the site in Nakuru by KenGen. It was expected that the Export Processing Zones Authority would provide technical details for the new project.
According to KenGen's CEO Albert Mugo, the company is talking to investors who are interested in the development. Among the investors so far interested is a paper manufacturing firm that wants to build a plant in the park.
In September this year, the company announced that it had found investors of the same.
Through Olkaria, the government is targeting at increasing national power output to 5, 000 MW by 2017, an initiative that will help jumpstart industrial growth in the country. KenGen is also seeking to attract more investors by use of cheaper energy from Olkaria development.
The project also comes at a time when KenGen is planning a 280 mw Olkaria 4 project, whose first phase seeks to add 140 mw into national grid.
Through this industrial park development, the government will offer space on land belonging to KenGen to serious industrial developers/companies willing to set up factories and plants, according to Minister for Energy David Chirchir. It will offer the government the opportunity to ease connectivity for heavy power uses, since the park is located near the Olkaria power plant.
The Kenyan government has a plan to reduce power costs up to 40% in the next three years as more geothermal and renewable power is injected into the grid.
In the next two years, the government is hoping to get 1,000MW from the Olkaria geothermal power plant, and 1,000MW from Menengai. Many countries in the region are planning addition of power into their national grids since more power is needed to support economic expansion. Tanzania is also planning to construct its first geothermal power plant at the cost of US$300m. Construction of the power plant is set to begin next year.
Source : constructionreviewonline.com