M a r k e t N e w s
Deere taps tractor-hailing tech in bid to break ground in Africa
Posted on : Monday, 9th March 2020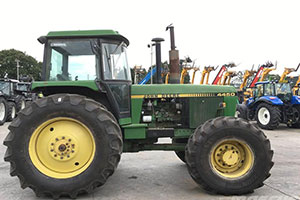 It's ride-hailing, farm style. Deere & Co. is pairing up with the "Uber of tractors" in Africa and betting on a prospect where farmers summon machines with the touch of a button.

The world's leading farm equipment manufacturer is supplying its tractors with startup Hello Tractor's technology, which permits farmers to hail the machines through an app. It also monitors the vehicles' activities and communicates usage information such as fuel levels.

The objective is to support the U.S. Company boost sales of its famous green and yellow John Deere tractors, which is a hard task in a continent with the world's maximum poverty rate and the minimum mechanized agricultural sector.

Deere is presently testing the technology - a small black box fitted under the dashboards - on around 400 tractors in Ghana and Kenya. It plans to roll out the devices across Africa in the second half of this year, proposing it to all contractors who purchase its equipment on the continent.

Jacques Taylor, head of John Deere's sub-Saharan Africa business, stated that the continent desperately requires more machinery to progress its farming industry but most farmers do not have the scale to justify a large investment.

"We would like to see that every single farmer has access to mechanization," he told Reuters. "The gap that we have identified is, how do we associate small farmers with tractor owners?"

Hampered by low incomes, small landholdings in addition to a lack of bank financing, tractor numbers have long been immobile on the continent, although much of the developing world has experienced a boom in mechanization.

Deere reasons that it can help on the financing front, it told Reuters it could pull data from the Hello Tractor stage that showed in accurate detail how farmers were using its equipment. That data, it said, could be utilized by the farmers who usually lack credit histories to help secure bank loans. This would mean they could buy more tractors.

Agrimech Africa, a Nairobi-based agricultural services firm has taken up the offer to have the devices installed on its Deere machinery.

"They do the technology. We do the management," mentioned Pascal Kaumbutho, who heads the company.

Agrimech, which is paid by farmers to work their land, anticipations that the new tech will help optimise its Deere tractors and link them to new customers, permitting it to expand.

Kaumbutho, whose company manages a dozen tractors, foresees a future in which Agrimech runs a 1,000-strong fleet. "Right now, we are reaching around 1,500 farmers and within the next 2 or 3 years, I'd like to reach 20,000." He said.

Such prospects exist in markets across Africa, said founder of Hello Tractor Jehiel Oliver. "Nigeria alone requires around 750,000 tractors to be on the global average. Our technology is a market-maker for tractor manufacturers who want to sell into those markets."

Deere's annual revenue of about $40 billion is ruled by the Americas and Europe. It doesn't break out numbers for Africa, but collective revenue from Africa, Asia, Australia, New Zealand and the Middle East was $3.9 billion last year.
Source : www.kahs.com