M a r k e t N e w s
Kenya and UK strategic partnership to strengthen healthcare sector
Posted on : Friday, 6th March 2020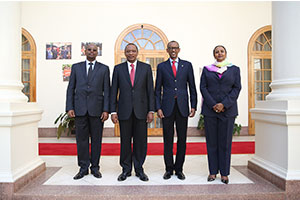 President Uhuru Kenyatta is seeking to forge a strategic partnership with the University of Manchester and Christie NHS Foundation aimed at strengthening the healthcare sector in the country.
The partnership will see the University of Manchester and Christie NHS Foundation Trust collaborate with Kenyatta University Teaching Research and Referral Hospital (KUTRRH) in the prevention and management of non-communicable diseases with special emphasis on cancer and mental health.
President Kenyatta at State House, Nairobi held talks with visiting officials of the University of Manchester and Christie NHS Foundation as a follow up of the signing of an MoU between Kenya and the two British institutions on the side-lines of the recent UK-Africa investment in London.
The agreement provides for the training as well as the exchange of health professionals including Kenyan nurses who will get an opportunity to serve in Britain.
According to a statement from the Presidential Strategic Communications Unit (PSCU) Kenya will benefit from a comprehensive skills upgrade programme for health experts in specialist areas such as heart, kidney and cancer diseases.
Through this partnership, Kenya will receive support to establish a cancer center of excellence at the Kutrrh.
"Our desire is not only to make Kenyatta University a Centre for Research and Treatment but also to reduce the costs in the treatment of non-communicable diseases," the President said noting that the cancer center will be linked to regional hubs to facilitate early diagnosis and treatment of the disease.
The partnership between the two UK institutions and Kutrrh will, therefore, go a long away in fulfilling President Kenyatta's promise to do everything in his power to bring down the costs of cancer treatment in the country.
President Kenyatta said he is keen on establishing this partnership to ensure that Kenya and the UK both benefit from this.
The UK officials will hold a series of meeting with Kenyatta University and Kenya's Ministry of Health officials with the aim of kick-starting the collaboration.
Source : newzmart