M a r k e t N e w s
Kenya Medical Supplies Authority In The Process Of Setting Up Regional Distribution Centres
Posted on : Tuesday, 25th February 2020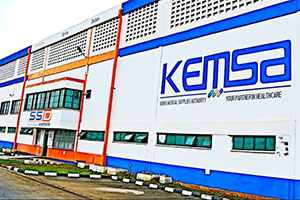 An extra warehouse is likely to be completed by June at Kemsa headquarters in Embakasi, Nairobi, to boost storage. A system is already in place to make sure all commodities are tracked.
The Kenya Medical Supplies Authority is in the procedure of setting up regional distribution centres in Kisumu and Mombasa. The facilities should be up and running by the end of March.
The developments follow Kemsa's partnership with Postal Corporation of Kenya to help in the delivery of medical supplies to hospitals located in remote parts of the country.
They are likely to ease the supply of health commodities to hospitals.
The Sh120 million contract signed will allow deliveries through motorbikes and small and medium-sized trucks.
Other high-value and high-impact supplies such as snake antivenom will be delivered through courier service.
The agency in the UHC programme has been tasked with ensuring quality medical products at fair prices, adequacy in stocks of essential medicines and supplies and delivery in good time as requested by health facilities.
Kemsa CEO Jonah Manjari said, "To achieve and meet UHC needs, Kemsa is required to increase its capacity to supply important health products and technologies countrywide. We realise that we need to work with an institution that has enough capacity and the same vision as Kemsa in terms of delivering to the last mile."
Source : newzmart.com