M a r k e t N e w s
The 3rd Ethiopia International Trade Exhibition 2020 at Addis Ababa
Posted on : Tuesday, 3rd March 2020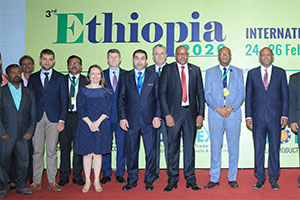 The much awaited 3rd edition of Ethiopia International Trade Exhibition 2020 was inaugurated today by H.E. Mr. YohannesDikayehuEba, State Minister, Ministry of Industry, Ethiopia. Held at the Millennium Hall in Addis Ababa, from 10:00 AM to 6:00 PM for the public till 26th of February 2020, it is the one place to source new products, services and technology from around the world.
Ambassadors, trade delegations and representatives from various countries and ministries were present to meet and support the companies representing their countries at the event. The dignitaries included Ambassador of Bangladesh, Hon'ble Md. Monirul Islam, Ambassador of Botswana, Hon'ble Zenene Sinombe, Ambassador of Central African Republic, Hon'ble Fernand Poukre-Kono, Ambassador of Egypt, Osama Mahmoud Abdelkhalek, Ambassador of Iran, Hon'ble Behzad Khakpour, Ambassador of Poland, Hon'ble Aleksander Kropiwnicki, Ambassador of Republic of Korea, Hon'ble Lim Hoonmin, Ambassador of Morocco, Hon'ble Nezha Alaoui M'hamdi, Ambassador of Mauritius, Hon'ble Dharmraj Busgeeth, Ambassador of Serbia, Hon'ble Aleksandar Ristic, Ambassador of South Sudan, Hon'ble James Pitia Morgan, Ambassador of Sri Lanka, Hon'ble Sugeeshwara Gunaratna, Ambassador of South Africa, Hon'ble Edward Xolisa Makaya, Charge d'Affairesa.i. of Romania, Hon'ble Vasile Joroveanu, Chargé d'Affairesa.i. of Ireland, Hon'ble Patrick McManus, Ms. Julia Weichenberger, Deputy Head of Mission, Embassy of Austria, Mr. George Tadros, Deputy Chief of Mission, Embassy of Egypt, Mr. Reza Ranjbar, Head of the Economic Section, Embassy of Iran, Mr. MaciejChrzanowski, First Secretary - Head of Political-Economic Section, Embassy of Poland, Mr. TheroMokoti, First Secretary, Embassy of Botswana, Mr. Mohamed Halima, Second Secretary, Embassy of Egypt, Mr. Mustafa Tarek, Third Secretary, Embassy of Egypt, Mr. Jean Marie VianneyNkurayija, Second Counsellor, Embassy of Rwanda, Ms. Edith Predorf, Commercial Counsellor - Head of Political-Economic Section, Embassy of Austria, Ms. Sebueng T. Chipeta - Counsellor - Embassy Of South Africa, Ms. Tamara Ndaba - Counsellor - Embassy Of South Africa, Mr. Thabo J. Chauke - Counsellor - Embassy Of South Africa, Mr. R. Ratheesparana, Diplomatic Attache, Embassy Of Sri Lanka.

The 3 day multi country international trade event brings to Ethiopia exhibitors from 30 countries. The main attractions this time around are the European and Asian Pavilions showcasing the latest products and innovations which are now being made available to the Ethiopian industries.
Highlighting key sectors to promote and introduce new products equipment and services to the upcoming Ethiopian market is the primary goal for the trade exhibition. Held concurrently with the Ethiopia International Trade Exhibition, sectors includes building and construction, lighting, heavy equipment, tools and hardware, woodworking and sawmill machinery, large automotive and spare parts, power and energy, consumer products, agriculture, materials printing, packaging and more. The event introduces the Ethiopian market to world class industry leading products and services under one roof.
Sponsors for this event are Diamedica (Uk) Ltd (United Kingdom – Medexpo) and Emirates General Petroleum Corporation (EMARAT) (United Arab Emirates – Autoexpo). Other major companies include Treea Machinery (Portugal – Buildexpo), Guangzhou Airwoods Environment Technology Co., Ltd (China – Buildexpo), Legero Lighting (India – Lightexpo), Dieffenbacher (Germany – Afriwood), Felder Group (Austria – Afriwood), HafeleGmbh (Germany - Afriwood), Coral Spa ( Italy – Afriwood), Hartec Sal (Lebanon – Autoexpo), Super Line Industries (India – Autoexpo), Alojaimi Industrial Group (Saudi Arabia – Power & Energy), Precision Wires India Limited (India – Power & Energy), Blue Carbon Technology Inc. (China – Solar Expo), Jiangsu Sunrain Solar Energy Co., Ltd ( China – Solar Expo), Autoplast Egypt (Egypt – Pppexpo), Yorpak ( Egypt – Pppexpo), Streamline Group Of Companies ( India – Pppexpo), Danobe Bakery & Pastry Ingredients Import & Distributer (Ethiopia – Foodagro), Artin Group (Uae – Foodagro), DktWomancare Global (France – Medexpo), Shanghai Fanta Dental Materials Co., Ltd. (China – Dentexpo), and HacoGmbh&Co.Kg (Germany – Consumer) among many others.
The 2020 edition hasspecial pavilion participation by companies from Saudi Arabia, Egypt, Italy, India, Germany, Austria and France. Companies from the African continent especially from Kenya, South Africa and Ethiopia are also participating among the worlds' leading global brands.
As the biggest business and trade event in Ethiopia, this event presents an opportunity for all industry leaders, innovators, business owners, importers, entrepreneurs and upcoming traders from various industries and backgrounds to source their needs and interact with international brands under one roof.
Trevor Daniel
Media Manager
Ethiopia International Trade Exhibition (EITE)
Email: feedback@expogr.com
Int'l: +971 43050755 | Ethiopia: +251 937173791/ +251 96 668 5626
Source : expogr.com