M a r k e t N e w s
The Highest Monthly Production Record Of Tea Farmers In Kenya
Posted on : Monday, 24th February 2020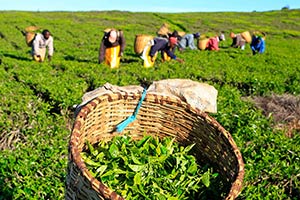 Smallholder tea farmers under the Kenya Tea Development Agency delivered 150.5 million kilos of green leaf in January 2020.
The performance, which is the highest ever amount recorded by KTDA-managed factories in a single month, was driven by heavy rains that spilled over from 2019.
In the Month of December 2019 amount was 21.8 %, which was higher than what the farmers produced in January 2019. In January amount is 15 percent above the 130 million kilos delivered.
Cumulatively, in the current financial year to date (July 2019 to January 2020), production stands at 768.98 million kgs, compared to 733.48 million kgs for the same period in the previous year, a 4.8 percent increase.
The increase in production of Greenleaf is attributed to high rainfall experienced in tea growing areas, favorable temperatures and good farming practices by tea farmers as recommended in the Farmers Field Schools (FFS) programme.
Other major tea producing countries such as India have also registered increased production, adding onto the global tea volumes being offered for sale.
Average tea prices at the Mombasa Tea Auction in the period under review (July 2019 - January 2020) continued a downward trend, recording USD 2.21 compared to USD 2.58 in the corresponding period in 2018, a 14 percent drop.
Tea prices have been on a downward trend since 2018/19 and this has continued into the current financial year.
However, teas from KTDA-managed factories fetched an average USD 2.56 during the period under review compared to USD2.69 for a similar period in the previous year (July 2018 to January 2019).
In 2018, projections from the Food and Agriculture Organization (FAO) indicated continued pressure on tea prices as a result of increased world production above demand.
Source : newzmart