M a r k e t N e w s
ISUZU MOTORS SA TO EXPORT PICK-UP KITS TO AFFILIATE FACILITY IN KENYA
Posted on : Monday, 17th February 2020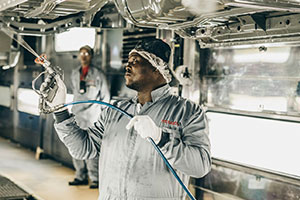 Isuzu Motors South Africa in Port Elizabeth, a subsidiary of Isuzu Motors Limited, which, in turn, is a majority shareholder of Isuzu East Africa, has announced that they have started to export Isuzu D-MAX pick-up kits in knocked down (KD) format to an associate manufacturing facility in Kenya.

This is the first in a sequence of initiatives that will pursue to drive Isuzu strategy to boost regional trade exchange and develop its total volumes in Sub-Saharan Africa. Since the brand presently holds a respectable 44.5 per cent market share in the new vehicle market in Kenya, it was decided that infrastructural investment of this reach and magnitude was more than warranted.

The East African operation has formerly only concentrated on truck and bus assembly, and the new export programmer would function to give the Kenyan operation more plasticity in order to remain competitive. This is largely due to the fact that the import tariffs on the KD kits are far less than importing fully assembled bakkies from South Africa. Additionally, the initiative will also serve to create employment in Kenya, without limiting the employment opportunities at the plant in South Africa.

According to Isuzu Motors South Africa CEO and Managing Director Michael Sacke, the brands popularity in East Africa is based on the performance and reliability of its vehicles, as well as overall customer satisfaction. He is quoted as saying that their team put the project together in a very short amount of time, and anticipates that it will result in a mutually beneficial working relationship for the plants in Kenya and South Africa. Sacke, further mentioned that the first vehicle kits have already reached in Kenya after the Kenyan team concluded their all-inclusive training in PE last year to arrange for operations on their end.
Source : www.jasgf.com