M a r k e t N e w s
Kenya to Export 400,000 Barrels/Year Crude till Turkana Project Kick Off
Posted on : Wednesday, 5th February 2020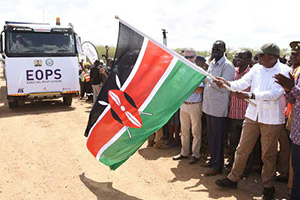 Kenya plans to export two crude cargoes a year under the early oil pilot scheme up to late-2023, when first oil from the major Turkana oil development is projected to come online, Petroleum Principal Secretary Andrew Kamau told S&P Global Plats in a telephone interview earlier last month.

"We aim to export some 400,000 barrels of crude annually beginning with the financial year 2020-21, 2021-22 and 2022-23," he said. "We want a rigorous export program up to 2023 so that by the time we start major shipment we know how the market is responding."

This will make the way for a major production of around 80,000 b/d which will be exported via a pipeline to the port of Lamu on the Indian Ocean.

The early oil pilot scheme remains suspended due to severe damage to roads caused by adverse weather in the fourth quarter of last year, according to Tullow Oil, which operates the Lokichar fields.

Kamau said the government hopes to export 500,000 barrels of crude this year when the repairs are completed on the road.
Source : www.innzaf.com