M a r k e t N e w s
Launch Of Electronic Customs Processing Platform To Enhance Trade In Ethiopia
Posted on : Tuesday, 14th January 2020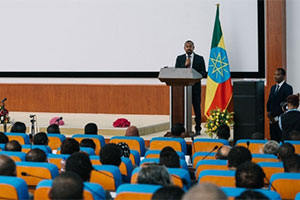 The Government of Ethiopia launches an electronic platform that will enhance efficiency in trade logistics landscape of the country by speeding the customs process for importers and exporters.
It is said will reduce the 44 days hectic long paper work process for importers and exporters to 15 days. Gradually, it is also expected to cut the 15 days to three working days.
The study to launch the electronic platform has been conducted for the past five years, according to Adanech Abebe, Minister of Revenue, who indicated that the technology will play key role in facilitating and speeding the process for importers and exporters.
Ethiopia Electronic Single Window Service, is launched in the presence of Prime Minister Dr. Abiy Ahmed.
It is stated that the online e-business / e-government services streamlines processes and saves time. Embracing digital transformation offers better service rendering practices and higher customer satisfaction.
Adanech Abebe, noted that the new electronic platform will also make the customs procedure easy predictable and reachable. In addition to cutting the paper works, the new e-service will spare the traders from wasting their times and days running from one office to another.
Gradually the number of companies using the system will be increasing. South Korean companies have taken part in the development and deployment of the new electronic customs procedures processing platform.
With the aim of facilitating the customs procedures deploying new technologies, the government has recently announced liberalization of logistics related businesses to foreign companies and investors.
The government of Ethiopia has also invited foreign companies to buy share in the state monopoly, Ethiopian Shipping and Logistics Services Enterprise. The move of the government is expected to improve the ease of doing business ranking of Ethiopia, which now ranks 159 out of 190 countries on the World Bank Index.
Source : newzmart.com