M a r k e t N e w s
Kenya to promote automotive sector
Posted on : Monday, 6th January 2020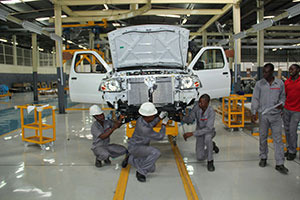 Kenya plans to endorse local content of the Automotive Sector in order to boost the industrial sector. Director of Industries, Hezekiah Okeyo, with Ministry of Trade, Industry and Cooperatives stated that the vehicle assemblers are presently greatly reliant on imports.
During the Enterprise India Expo Okeyo said, we will guarantee that as much as possible the local automotive sector uses parts domestically manufactured in order to enhance employment opportunities.
According to the ministry, the three local assemblers of Kenya, produce about 6,000 cars every year, which is less than the installed capacity. Conversely, most of the registered cars in Kenya are secondhand cars that are imported which are more reasonable as compared to locally produced vehicles, Okeyo said.
He further noted that the government is developing a new National Automotive Policy in order to boost local manufacturing. This new automotive policy will offer incentives to ensure that local vehicles assemblies function at full capability, by providing preferential treatment to locally produced cars.
He also publicized that the new policy will be ready after extensive consultations with all relevant stakeholders.
Source : www.gjsd.com