M a r k e t N e w s
USD 156 million Tadjourah-Balho-Mekele road connecting Djibouti and Ethiopia has inaugurated
Posted on : Thursday, 26th December 2019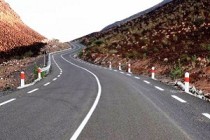 The highway connecting Djibouti and Ethiopia, namely, Tadjourah-Balho-Mekele road, has been inaugurated recently. Ismail Omar Guelleh, President of Djibouti, Ethiopian minister of transport, and other dignities have attended the ceremony.
The total length of the road is 120km, which connects Tadjoura port of Djibouti to the Balho of Ethiopia. The Tadjoura port mainly focuses on general cargo such as sesame, fertilizers, frankincense, grain, and livestock.
The total budget of the road is USD 156 million, which is financed by the Kuwait Fund for Arab Economic Development (KDEF). The road will pass through the Balho, a Djiboutian border town to the port of Assab in Eritrea, which further connects to the capital city of Tigrai, Mikelle.
Djibouti is the main shipment centre for Ethiopian international trade as it's strategically situated in one of the busiest sea roads in the world, controlling access to the Indian Ocean and the Red Sea. This project is expected to reduce the congestions in commercial traffic between the port of Ethiopia and Djibouti.
Source : Bizmart