M a r k e t N e w s
Twiga's Mobile By Kenya Raises $30m For West Africa's Growth
Posted on : Friday, 1st November 2019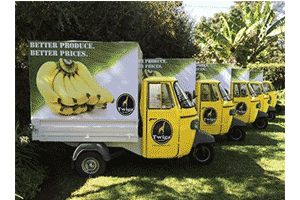 Twiga's mobile platform connects retailers with farmers and food manufacturers. These makes food economical and more accessible to a region with a growing population and food crisis.
This leads to increase $23.75m in equity from Goldman Sachs and existing VC investors the international Finance Corporation (IFC), TLcom Capital, Wamda Capital and Creadev, as well as $6m in debt from OPIC and Alpha Mundi, an announcement on Monday said.
The raise in money will be used to fund the firm's expansion into other Kenyan cities, as well as mainly French-speaking West Africa, Twiga's co-founder and CEO Peter Njonjo told African Business.
Outlining the target countries, Njojo said: "1st place is Cote d'Ivoire, then Mali and Burkina then Togo, Dakar, and Nigeria."
"Twiga will announce the countries and timeline within the next year," he added.
He also revealed that, the company also plans to roll-out a new distribution centre in Nairobi by March 2020.
The new distribution centre will have 'state of the art' cold rooms, conveyor and sorting equipment, which will enable Twiga to offer supply chain services for both fresh produce and FMCG products.
The company also hopes to branch out in Kenya to Mombasa, and possibly Nakuru, within the next year, he explained.
Njonjo said, the latest plan of funding will be also invested in technology to solve inefficiencies in Africa's domestic food market, worth $300bn and expected to grow to $1trn by 2030.
The B2B distribution company has a team of drivers who deliver fresh produce and processed food including rice, maize flour, cooking oil, milk, juice, sugar and snacks within 18 hours of an order being made on its platform. It pays farmers registered on the app within 48 hours using local mobile money systems such as M-Pesa.
Secretary of Kenya's Department for Crop Development and Agricultural Research Prof. Hamadi Boga said, "with Africa's population set to double over the next 30 years, access to reliable and affordable food sources for consumers and guaranteed markets for farmers are crucial for solving regional food insecurity."
"Food security is a key priority for the Kenyan government and Twiga Foods is playing a major role in achieving this. As our population grows and urbanisation continues, it is essential that we can provide access to affordable food for as many Kenyans as possible, as well as support and promote sustainable agriculture. We commend them on their impact so far, as well as their ability to attract investment to Kenya", Prof. Hamadi Boga said.
Source : newzmart