M a r k e t N e w s
HARTEC S.A.L Will Make Their Debut At 03rd Autoexpo Ethiopia 2020
Posted on : Tuesday, 5th November 2019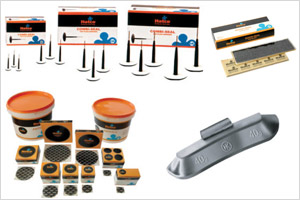 HATCO is one of the most prominent wheel balancing weights and tire repair brand around the world. In fact, the brand is well known across the Americas, Europe, Australia, the Middle East, Africa and Asia.
HARTEC S.A.L, a company established in Lebanon on July 2018 under Commercial Registration number 2053676, acquired HATCO and its rich tradition engulfed with 35 years of experience in wheel balancing weights and tire repair with the aim of developing the brand to become one of the influential leaders in this industry, worldwide.
With quality minded management, HARTEC S.A.L endeavored intensive R&D and deployed the latest technological resources and the most innovative and comprehensive product lines in the industry to thrive its wheel weight manufacturing business and provide its clients with the best quality.
HARTEC S.A.L believes that the keys to success are hard work, quality improvement and customer satisfaction. Through determination to succeed, the management of HARTEC S.A.L is committed to build an impeccable reputation with their clients and ensure their business success, by offering best quality and on-time delivery to customers.
HATCO manufactures wheel-balancing weights of the highest quality for all types of vehicles, from motorcycles to heavy trucks. It caters to all types of rims. The brand also manufactures a full line of premium quality tire repairs and chemicals. Through determination to succeed, hard work, quality and continuous improvement, HATCO thrived to turn itself into a world leading manufacturer.
HARTEC S.A.L to display their products for 03rd Autoexpo Ethiopia 2020 which are wheel weight balance and tire repair.
Expogroup Is All Set To Organize Their 03rd Auto Event In Ethiopia. The event will take place at The Millennium Hall, Addis Ababa, from 24 - 26 February, 2020. Expogroup is a full service exhibition organiser with over 23 years experience in International trade exhibitions. Their current portfolio includes 27 annual exhibitions from a diverse range of industries being held across the Middle East & Africa.
Visit their website at : https://hatco.com.lb/
News source : https://www.expogr.com/ethiopia/autoexpo/
Source : www.expogr.com