M a r k e t N e w s
Kenya launches test run on Phase 2A of its SGR Line
Posted on : Monday, 21st October 2019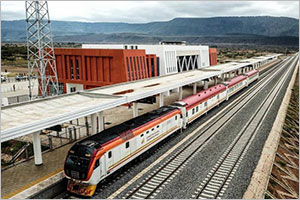 The government of Kenya has launched a 15 day test run on its Standard Gauge Railway (SGR) phase 2A project, which is currently on its final stage of construction. This is inorder to establish a link between the capital Nairobi and the resort town of Naivasha in the rift valley region.
The 120km modern railway line whose construction is overseen by the China Communications Construction Company (CCC), kicked off in October 2016. The line is part of the railway network in east Africa.
Improving the travelling experience
Upon completion of the SGR phase 2A whose remaining works include fencing and installation of signal systems, the vast swath of Central Kenya is expected to be accessible to rail travelers like never before.
In less than two hours, people traveling from Nairobi to the Rift Valley will be ferried across the 120km track through the longest railway tunnel in the East African region measuring about 4.5 km and across a 6.5km long super bridge, before being dropped at the foot of Mount Suswa, a magnificent shield volcano and a tourist destination in the region.
Some passengers will be alighting at the shiny new stations in Ongata Rongai, Ngong and Mai Mahui, which are built between the Syokimau and Suswa stations, each boasting a uniquely designed exterior and a businesslike aesthetic inside.
More than 500 local youth have benefited from well paid jobs offered during the construction of the railway line that is expected to have a positive impact on strategic sectors of Kenya's economy like agriculture, tourism and manufacturing.
Source : constructionreviewonline.com